Tim Cook Reveals How iPhone X Is Key to Apple's Next 10 Years
The Apple CEO is not giving up on the phone just yet.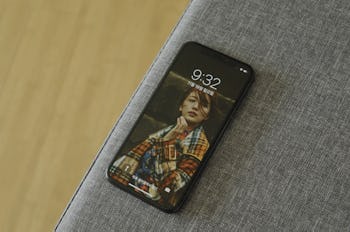 Flickr / TheBetterDay
Apple is not giving up on the iPhone X just yet. Despite reports that sales of the $999 smartphone have been sluggish and the company plans to pull the plug later this year, CEO Tim Cook struck a positive tone during Apple's first quarter earnings call Thursday afternoon, dropping hints at how the radical redesign paves the way forward.
"I think at the beginning, we don't really comment on future products," Cook said in response to a question from Mike Olsen, senior research analyst at Piper Jaffray. "But I would tell you that we're thrilled with the reception of iPhone X. And as we said when we launched it, we were setting up the next decade. And that is how we look at it. And so that's the reason it's chock full of incredible innovation. And so you can bet that we're pulling that string."
Cook also squashed rumors that slow sales of the phone — which has the highest starting price of any iPhone ever produced — would lead to a rethink. He revealed that Canalys analysis showed the phone was the world's best-selling smartphone in the December quarter, it's been the company's top-selling phone every week since it launched, and revenue from the new 2017 lineup was the highest in company history.
The company released a new ad last week to highlight its camera capabilities:
In the same call, Cook highlighted some features of the phone that hint at how the X will influence the coming years. He described augmented reality as "profound," with the "ability to amplify human performance instead of isolating humans," a feature that is boosted by the X's A11 Bionic processor, iOS 11 developer tools, and high-quality camera. He also said that the new face scanner has been "incredibly well received," suggesting the company will stand by its decision to remove the fingerprint scanner with future device releases.
It's not the first time Apple has suggested the X will form the design of iPhones for the future. At the device's unveiling in September, on stage at the Steve Jobs Theater in Cupertino, Cook claimed the phone would "set the path of technology for the next decade." In October, soon after the device's unveiling, designer Jony Ive described it as "a new chapter" in the company's history.
With reports that Apple would halve first quarter production targets for the new phone to just 20 million units, it seemed the company may have been planning a step back to reconsider its options. Cook doubling down on the company's future plans seems to suggest otherwise.