Apple Just Changed Its iPhone X Future Production Plans
The company is taking action.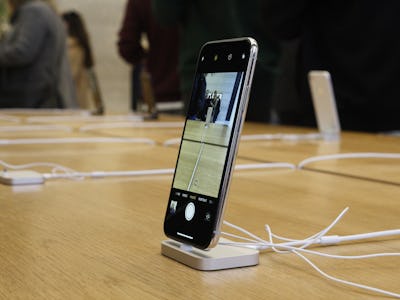 Mike Brown/Inverse
Apple is reportedly changing course with the iPhone X. The $999 smartphone, released just over two months ago, was touted by its chief designer Jony Ive as "a new chapter" in the company's history. Unfortunately, the market doesn't quite agree, and a new report claims the company is scaling back production.
Nikkei reported on Monday that the iPhone X's production target for the first quarter of this year will be halved to just 20 million units. The company is expected to maintain a target of 30 million units over the same period for its cheaper iPhones, including the iPhone 8 and 8 Plus that launched just before the X.
The iPhone X charts a new course in the company's revolutionary phone. Released 10 years after the first iPhone hit shelves, the X is the first to ditch the home button in favor of a screen that reaches the far edges of the device, packing an OLED display that measures 5.8-inches diagonally into a phone around the same size as the 4.7-inch iPhone 8. A large battery, wireless charging, and a face recognition scanner — complete with infamous "notch" — helped Apple justify a starting price tag higher than any other phone it's launched.
While the iPhone X may not be remembered for its sales figures, it doesn't mean Apple is about to ditch these new ideas. A memo by KGI Securities analyst Ming-Chi Kuo claimed last week that, while Apple may stop producing the iPhone X later this year, it may release three new devices that use the same face recognition and large screen ideas in a new series of devices.
The company's future lineup may take the best from the X and learn from it. DigiTimes analyst Luke Lin claimed on Friday that Apple will likely launch three models this year: a model with diagonal screen measurement of between 5.7 inches and 5.8 inches, one with a 6.0-6.1-inch screen, and one with a 6.4-6.5-inch screen. All three will offer 3D sensing features but only the largest phone will use the OLED tech the iPhone X uses to display truly deep blacks and a wider contrast of colors.
Apple's phone may end up more like the original iPhone in more ways than one: a pioneer of several technologies, but with comparatively modest sales figures.