Here's Why Your iPhone Has Suddenly Stopped Making Calls
AT&T users have a problem on their hands.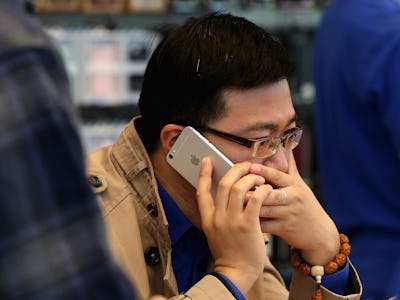 Getty Images / Feng Li
iPhone users across the United States have reported problems with making phone calls. The issue appears to be linked to the AT&T carrier, which issued a statement on Thursday advising its users on how to fix the issue.
The issue comes soon after the iPhone X's major launch, which saw consumers rush to purchase the $999 smartphone on November 3. It hasn't been an easy start, though — beyond the call outage, customers have been dealing with issues around the touchscreen not working in cold weather and a software bug that broke the letter "I".
Downtime tracking website DownDetector notes that reports of these issues started coming in at around 9 p.m. Eastern time on Wednesday. As of 7.11 a.m. Eastern time on Thursday, these problems are still persisting. Most reports came from Houston, Mountain View, San Francisco, Austin, New York, Chicago, Dallas, Los Angeles, Orlando, and Arlington.
AT&T issued the following statement on how to resolve the issue:
If you've experienced an issue when making wireless calls, please restart your device, this might be required multiple times- that should resolve the issue.
To restart the iPhone X, hold the side button and either volume button until the power slider appears on screen. Drag it across, then hold down the side button again after the screen goes blank to switch it back on. With older iPhones, the power slider appears by simply pressing and holding the power button.
If that fails, the carrier also recommends switching Airplane Mode on and off again. On the iPhone X, this is done by swiping down from the top right of the screen and tapping the airplane icon. On other iPhones, this is done by swiping up from the bottom of the screen and tapping the airplane icon.
How often have you looked at your phone today?