How to Read, Download the Nunes Memo That Was Declassified Today
Read the allegations against the FBI in their entirety.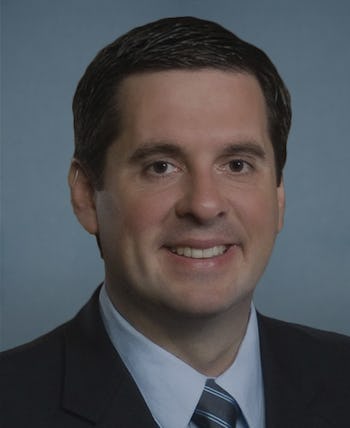 Wikimedia / Tktru
The House Intelligence Committee released the highly anticipated "Nunes memo" on Friday, despite unified opposition from House Democrats and FBI officials.
The memo, created by Republican Devin Nunes, contains allegations that the FBI overstepped their authority in surveilling Trump campaign advisor Carter Page in 2016. According to congressional Republicans, the FBI based their application to monitor Carter Page on faulty intel: the now infamous Steele Dossier which was produced by opposition research firm Fusion GPS.
Republicans say these are explosive revelations that should derail any case the FBI is building against Donald Trump. Democrats, on the other hand, argue that this is not the memo you are looking for. They have crafted their own memo that supposedly debunks the "Nunes memo," but the House Intelligence Committee voted not to release it.
The FBI warned against releasing the "Nunes memo." In a statement to the House Intelligence Committee, the FBI wrote, "we have grave concerns about material omissions of fact that fundamentally impact the memo's accuracy."
This is just the latest conflict in a series of public clashes between Republicans and the FBI over the Russia investigation. The issue has been largely split down partisan lines and has created a strange shift in liberal priorities. Typically, Democrats would be for restricting the FBI's authority to spy on American citizens, and the Republicans would champion the cause. But the Russia investigation has created all manner of strange bedfellows, with Republicans openly criticizing the motives of Special Counsel Robert Mueller (a lifelong Republican), and Democrats fighting tooth and nail to preserve his honor.
You can read the entire memo below: