When Is John Oliver Coming Back? 'Last Week Tonight' Returns Very Soon
You may see 'Black Panther' before the next new episode of John Oliver's cable satire.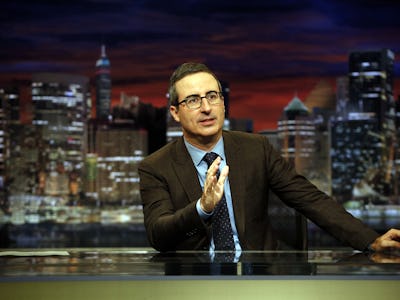 Eric Liebowitz/HBO
It's been a few months since TV audiences have seen John Oliver behind the desk of HBO's Last Week Tonight. Fortunately, sharp news satire followed by meticulously researched pieces on, say, automobile loans, vaccines, or even ghost governments, as told by a British comedian with exactly the kind of accent you picture a British comedian to have, will return very soon.
On Sunday, February 18 — two days after Marvel's Black Panther hits theaters, FYI — Last Week Tonight will return for its fifth season on HBO. The premiere will air at the same time it always has, at 11 p.m. Eastern.
Through the holidays, winter storms up and down the east coast, the release of a very revealing political best-seller, the Grammys, and tweets upon tweets by the President of the United States, Last Week Tonight has been sorely absent from the cultural discourse. Though no one comedy host can get it right all the time, the show's deeply researched investigative pieces, buoyed by humor ranging from the venomous to the cartoonish, has earned Last Week Tonight that coveted reputation of a true heir to Jon Stewart's long reign on The Daily Show. (And a few Emmy Awards, too.)
It's only natural, though, since John Oliver proved himself as a TV host the summer before Last Week Tonight premiered. In 2013, Stewart temporarily left the desk of The Daily Show to produce and direct the film Rosewater, an adaptation of the memoir Then They Came for Me, about the kidnapping of Canadian journalist Maziar Bahari. It was during Oliver's stint as host that the British comedian established a voice and brand that he used successfully at HBO less than a year later.
Last Week Tonight will return to HBO on February 18 at 11 p.m. Eastern.