John Oliver Attacks 'Un-Trucking-Believable' Auto Loans
'Last Week Tonight' has returned to the issue of debt buying.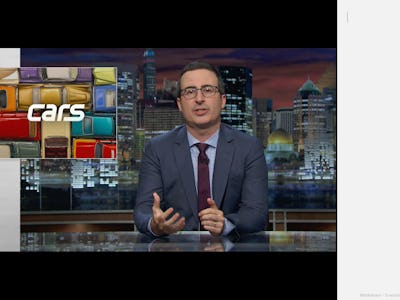 Last Week Tonight/YouTube
John Oliver is no stranger to debt. After his purchase of $15-million worth of debt went viral back in June, Oliver has returned to the thorny issue with a look at a possible ticking time bomb in the auto industry – one with strong similarities to the subprime mortgage crisis.
Oliver pointed to 2013 research from the U.S. Census Bureau that showed 86 percent of Americans travel to work by car. That's no small number, and being without a car can make working all the more difficult. One mother reported that her morning commute would take 10 minutes if she had a car, but instead she takes the bus for about the same length of time as The Imitation Game – "Which is to say, two wasted hours that feel like forever," Oliver said.
Consumers without the cash for a car upfront are turning to buy here pay here (BHPH) dealerships that lend cars to customers with little regard for credit score. The average interest rate on these cars is around 19 percent, but some can surge as high as 29 percent. One in three default on these auto loans, and most do so seven months after taking out the loan.
That's not so much of a problem for the dealers, though, who can always sell the car off again. One Kia Optima was found by the L.A. Times to have changed hands eight times over three years, each time at nearly double or even triple its blue-book value. "You almost feel bad for the car, which presumably needed two sessions of therapy a week just to start its crappy engine again!," Oliver said.
In many ways, this situation resembles the subprime mortgage crisis, but with cars. "Normally, if you add the phrase '…but with cars' to any historical event, it sounds a lot more fun, like 'the assassination of Abraham Lincoln, but with cars'," said Oliver. "Sadly, this is the exception to that rule."
Where some see crisis, others see potential. Hidden camera footage recorded by Last Week Tonight showed footage of Ken Shilson, president of the National Alliance of Buy Here, Pay Here Dealers, speaking at a conference in Las Vegas highlighting the opportunities for Wall Street debt buyers.
"That is both inspirational and profoundly upsetting," Oliver said.