John Oliver Forgives $15 Million in Debt on 'Last Week Tonight'
Oliver turned $15 million into like $6,000 when he bought the debt.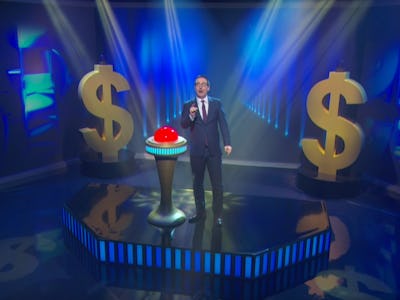 Everyone knows the iconic moment when Oprah announced to a baffled studio audience that everyone would be going home with a new car. That giveaway may have dished out over $8 million in vehicles, but it pales in comparison to the value of John Oliver's surprise on Sunday's Last Week Tonight. After an episode focused on exposing the lack of regulation in the debt-buying and collecting industries, Oliver showed just how easy it is to do it all differently.
First, for just $50 and done entirely over the internet, Oliver established Central Asset Recovery Professionals (CARP), a debt-collecting agency in Mississippi and named himself Chairman of the Board. Once his team had set up a basic website for the new company, CARP, named "after the bottom-feeding fish," received an offer to purchase a little less than $15-million worth of "out of statute medical debt from Texas at a cost of less than half a cent on the dollar, less than $6,000."
"For that amount, CARP would be sent the personal information, including names, personal addresses and social security numbers of nearly 9,000 people, so we bought it," Oliver said. "Which is absolutely terrifying, because it means, if I wanted to, I could legally have CARP take possession of that list and have employees start calling people, turning their lives upside down, over medical debt they no longer had to pay."
"Out of statute" medical debt has passed the statute of limitations for how long borrowers may be sued for outstanding debt, yet collection's agencies still make loads of money trying to convince people they should still pay the money.
"There would be absolutely nothing wrong with that, except for the fact that absolutely everything is wrong with that," Oliver said. "And that is why we actually decided to go another way."
"We thought that instead of collecting on the money, why don't we just forgive it, because on the one hand it's obviously the right thing to do, but much more importantly, we would be staging the largest, one-time giveaway in television history," Oliver proclaims before running over to a giant red button and making it official to shouts of "Fuck you, Oprah!"
It was a record-breaking episode, and Oliver did it in style.