John Oliver Dismantles Corruption in Special Districts, aka 'Ghost Governments'
"When special districts only have one job, it makes it all the more noticeable when things go wrong."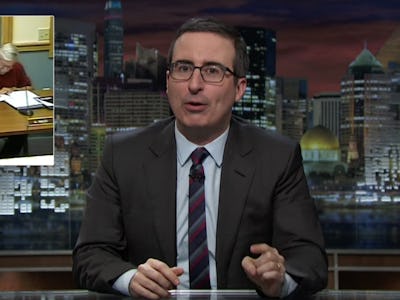 HBO
On Sunday's Last Week Tonight, John Oliver took the viewers he might've picked up from his highly successful campaign to "Make Donald Drumpf Again" and decided to educate them on the decidedly less sexy topic of tax dollars in special districts.
"Hello to people watching for the first time because of our Trump piece," Oliver said. "And, also, I presume, goodbye, goodbye. Thanks for checking in."
Too bad if they did tune out. Special districts are small units of government which can use tax dollars to provide one specific service — like water, or funding for the fire department — and are ubiquitous, even though many people don't even know they exist.
There are more than 40,000 special districts across all 50 states, taking in more than $100 billion in taxes annually. Oliver put that in context: $16 billion more than Russian spent on its military. Yet they're little understood and often operate with no oversight. Idaho even launched a commission, whose primary directive was just to find out how many special districts are in the state.
"It's a little weird in a country that talks so much about government accountability that so many of our tax dollars go to things we know nothing about," Oliver said.
What kind of things go on when you're operating in what some call "ghost governments"? Well, sometimes they take their jobs seriously, like a one district operated by two men out of New Hampshire who had so much respect for the rules they held lonely roll calls at public forums where they were the only ones in the room –– the "public comment" section of the meeting, which was posted to YouTube with zero views when Oliver's producers found it, was predictably, laughably, quiet.
Then again, you might end up in the district of a Kentucky fire chief who spent more than $100,00 of taxpayer money on chewing tobacco, flat screen TVs, and fireworks, and porn, and then denied it on camera to local news.
All of that bad behavior is nothing compared to Oliver's most shocking example out of Conroe, Texas, where a company wanted to form a special district to issue bonds to build a new neighborhood on undeveloped land. Because there weren't any residents yet, to set up a vote, the company contracted a separate company to get two people living on the land in a mobile home on a nine-month lease, making those two the only ones who would be eligible to vote for the bonds.
"Think of a special district like a cult," Oliver said. "They could take your money and you may not even be aware that you are in one."
Even if a special district is proven to be a huge waste of money, there's no process to dissolve it. On the bright side, some states are working to educate the voters, and find out who's spending what. California, for instance, recently held a kid's contest to make a video explaining special districts, which Last Week Tonight entered with the help of a few children in their own suits and glasses: