Surprising New Data Reveals Elon Musk's Biggest News of 2017
It's probably not what you're expecting.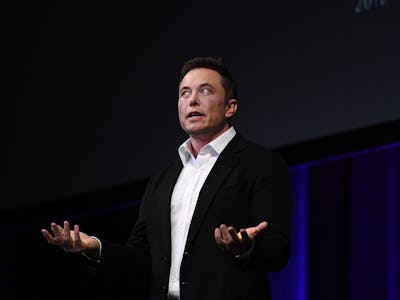 Getty Images / Mark Brake
Elon Musk had a busy year, what with his plans to provide solar energy to Puerto Rico, building the world's largest battery in South Australia, launching a recycled Falcon 9 rocket, and kickstarting The Boring Company. It seems that all this pales in comparison to his biggest news of the year, as revealed in a data set charting the past year in the tech entrepreneur's life.
Data collected by British firm RS Components shows how different stories drove interest in Musk throughout the year. Google trend graphs reveal spikes as people searched for his name to find out more about his latest achievement.
The one that drove the most traffic of the past year? April 24, when he revealed his relationship with Amber Heard. Musk and Heard announced their partnership over Instagram, with romantic photos of the pair sharing a meal at Moo Moo steak house, on Australia's Gold Coast. The relationship didn't last too long, though, with the pair breaking up in August.
Another major spike in searches occurred in July, when Musk dismissed Facebook CEO Mark Zuckerberg for having a "limited" understanding of artificial intelligence. Zuckerberg, who has built his own "Jarvis" personal assistant, said that he was optimistic about the role of the technology, and said that he did not understand "doomsday scenarios."
The jump in interest following Heard's relationship news is rivaled only by the 2013 announcement of hyperloop. Musk outlined his plans for a 700 mile-per-hour vacuum-sealed pod transit system only to promptly release it to the world for free, causing a sudden surge in interest.
The data shows that Musk has grown over the years into a household name, but there are still many casual newsreaders that will be primarily interested in Musk as the guy that dated the actor from Friday Night Lights, Zombieland and Aquaman, rather than the guy that wants to colonize Mars and create a superfast electric car.
View the information chart below: