Elon Musk Jokes About the Future as Boring Company Edges Past $500k Funding
The Boring Company might actually reach its goal.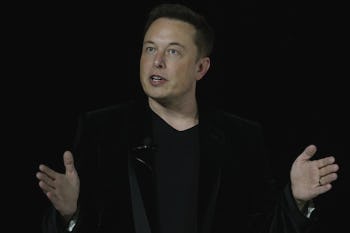 Getty Images / Justin Sullivan
Elon Musk's tunnel-digging venture hit a milestone on Monday, with the tech visionary announcing that the Boring Company has sold 30,000 branded hats. The company, founded earlier this year to link up cities with vast networks of underground passages, has been selling hats at $20 a pop to reach an overall funding goal of 50,000 hats for a total of $1 million revenue.
"After 50k hats, we will start selling The Boring Company flamethrower," Musk said on Twitter Monday. "I know it's a little off-brand, but kids love it."
The flamethrower idea is another reference to 1987 sci-fi comedy Spaceballs. In one scene, Yogurt (played by Mel Brooks) showcases a number of branded merchandising goods, including t-shirts, lunchboxes, and…flamethrowers. A demonstration of the product gets excited oohs from Yogurt's assistants, as he declares that the kids "love this one."
Musk hinted last week that the movie was where he got the idea to fund the Boring Company through branded goods. Musk has also referenced the movie in Tesla's cars with the Ludicrous speed mode in the Model S and Mode X, as well as the Plaid mode set to debut in the 2019 Roadster.
The Boring Company has big plans, but it needs cash to make them happen. Musk is currently building a test tunnel by the SpaceX campus in Hawthorne, California. The company also plans to compete for a contract with the city of Chicago to build a high-speed "Loop" system connecting O'Hare Airport to downtown. The team has also released footage of an electric skate, capable of traversing these tunnels by moving cars at a speed of 125 miles per hour.
These plans have been a long time coming. Musk first outlined his idea for a tunnel-digging program at Texas A&M University in January 2016.
"It's not that hard, but if you have tunnels in cities, it would massively alleviate congestion," Musk told the audience. "You could have tunnels at all different levels, you could have 30 layers of tunnels and completely relieve the congestion problem in high-density cities. So, I highly suggest tunnels."
Thanks to a surprisingly effective leveraging of Twitter fandom and Spaceballs references, Musk might actually bring his tunnels to life.