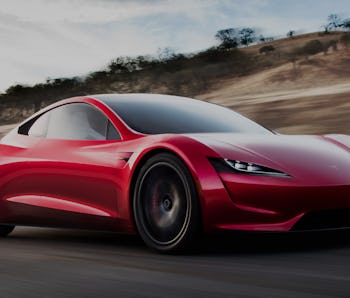 Innovation
Tesla Stuns Crowd With New Roadster, Fastest Production Car Ever
Tesla
Tesla gave an Apple-esque surprise reveal at its electric semi truck unveilingThursday night, where the company also took the wraps off its next-generation Roadster. CEO Elon Musk told the crowd that the lightning-fast vehicle would be "the fastest production car ever made, period."
At the Tesla Design Studio in Hawthorne, California, southwest of Los Angeles, the audience listened patiently as Musk detailed the Tesla Semi truck. It claims a battery range of 500 miles, a slew of new safety features, and a guarantee that lasts for a million miles before it needs repairs. But at the end of the presentation, the on-stage truck opened its rear cargo door to reveal an updated version of the company's Roadster, the first vehicle Tesla produced in 2008.
"People asked us for a long time, 'when are you going to make a new Roadster?'" Musk told the audience. "We're making it now."
The vehicle has a ton of power behind it. It accelerates at a rate of 0-60 miles per hour in 1.9 seconds, and 0-100 in 4.2 seconds, reaching a quarter mile in 8.8 seconds, all of which Musk claims are world records. Three motors provide 10,000 Newton meters (7,375 foot-pounds of force) of torque in an all-wheel drive configuration, and the car is capable of reaching a top speed of above 250 miles per hour.
"This is the base model!" Musk said. "We're gonna talk about things beyond base maybe next year sometime."
Musk had previously hinted that the next Roadster would be built for speed. In June, he tweeted that 0-60 in under two seconds was "an interesting target." Fans produced concept art based on Musk's hints about a future-facing performance electric vehicle.
Tesla hasn't skimped on space, though. It has four seats, in a two-plus-two arrangement. The glass roof is lightweight and removable, storing in the roomy trunk for open air driving.
The car has a 200kWh battery pack, capable of running for 620 miles, the first time a production will travel more than 1,000 kilometers on a single charge at highway speed. Because of this, the new Roadster should be able to make San Francisco to Los Angeles and back, running at highway speeds, without recharging.
Musk said the vehicle is a "hardcore smackdown to gasoline cars," aimed at making gas-powered vehicles feel like "a steam engine with a side of quiche."
The next-generation Roadster has a new performance mode called Plaid, a reference to the movie Spaceballs. Watch the new mode in action here:
The new Roadster is expected to hit the roads in 2020. The base price will be $200,000, with a reservation of $50,000. A Founders Series model, limited to 1,000 reservations, will be available with a reservation price of $250,000 that covers the whole cost of the car.