This Tesla Roadster Concept Makes the Model 3 Look Ancient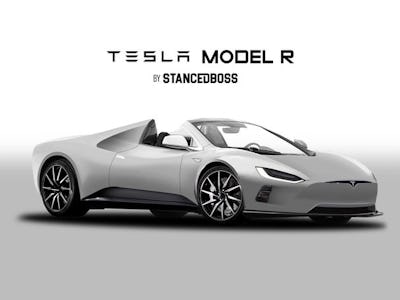 STANCEDBOSS/Reddit
The Tesla Model 3 has yet to enter production, but concept art is already emerging for one of Elon Musk's next projects, the next-gen Tesla Roadster. The original Roadster first launched in 2008, and Musk has stated before that the company's first vehicle will receive an update sometime around 2019. On Sunday, one Reddit user gave us a look at what this car may look like.
Reddit user Stancedboss shared his creation on the Tesla subreddit, and based his design on the McLaren 650S Roadster. The original car combines a sleek design with a convertible hard-top roof engineered to maintain a stable center of gravity.
It sounds incredible, and based on Musk's comments it may not be far from the real design. The CEO confirmed via his Twitter account last week that the next Roadster would be a convertible.
Beyond that, we know little else. Musk has already said that the next Roadster would be the company's fastest car, a title currently held by the Model S P100D that can go from 0-60 mph in just 2.28 seconds. We also know that Musk is working on full self-driving capabilities, due to launch this year, that will also make it into the Roadster.
It's also not unthinkable that Tesla could use another vehicle as its base, as the original Roadster started life as a Lotus Elise. But in response to user feedback, Stancedboss produced a second concept that removes some of the McLaren design elements in favor of a more Tesla-like concept:
This one features a flat logo against the hood, as well as a wider and simplified front vent. These make the car look more like a Model 3, although a far cooler version that drove straight out of the future. Considering the company has built up experience designing three models of cars between the last Roadster and now, it's not unreasonable to think Musk would rather take inspiration from his company's own cars.
The concept follows Jan Peisert's design from last week, which used a Toyota FT-1 as its base. The two have used radically different starting points, but only Musk will know which design is closer. 2019 can't come soon enough.