Raindrop, Drop-Top: Elon Musk Teases New Tesla Roadster 
by Monica Hunter-Hart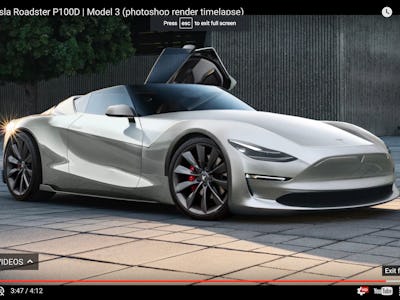 Photo by Jan Peisert
The next generation of the Tesla Roadster, due out sometime in 2019, will be a convertible. On Thursday, Elon Musk shared the news with about 8 million people on Twitter in one of the few times he's spoken publicly about the remodel of Tesla's first-ever car.
Even though the new Roadster's re-release is two years away, and the highly anticipated Model 3 will probably come out this July, there's already a lot of buzz about this next vehicle. The original Roadster was produced between 2008 and 2012, but the company's technological advancements progressed so quickly that the Roadster has become outdated — it doesn't have full autonomous capability, for example — and Tesla's stopped producing it. Musk's had plans to redesign the vehicle in the works for some time.
The remodeling hasn't been a recent focus of Tesla's. Instead, the company has been concentrating on producing less expensive lines like the Model 3. Musk said in July 2016 about the Roadster: "I would love to do the next roadster, but that's gotta be dessert." Tesla then was focused on producing more "affordable market cars."
Here's what we know about the next-gen Roadster so far: It will be Tesla's fastest vehicle (a title currently held by the Model S P100D, which can go from 0-60 mph in a mere 2.28 seconds), achieving its top speeds in "Plaid" mode — a reference to the movie Spaceballs. ("Ludicrous" mode is on the Tesla Model S).
It will contain the equipment necessary for full self-driving capabilities, just like all new Tesla vehicles, beginning with the Model 3.
Unfortunately, those are the only details we have about the Roadster so far. We don't know much, but that hasn't stopped artists from making some pretty amazing concept designs. But they're just fantasies; we'll have to wait a while to see what the Roadster will actually look like.