The 2019 Tesla Roadster May Break Speed Records, Elon Musk Hints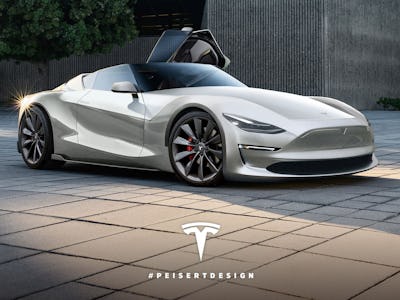 Jan Peisert/Facebook
Tesla's next supercar could claim the title of fastest-accelerating production car. The next-generation Roadster, expected to launch in 2019, will update the company's first car for a new era. Company CEO Elon Musk suggested the new version could push the boat out and aim for never-before-seen performance.
Musk told one of his followers that going 0-60 mph in under 2 seconds — which would make it the fastest production car — would be "an interesting target." He said that the car would need to be capable of reaching that goal using street-legal tires straight off the production line.
It would be impressive, but Tesla already holds the record. The Model S P100D, with Ludicrous Plus performance mode activated, achieved a staggering 2.28 seconds in February. Musk himself claims the P100D is capable of achieving 2.4 seconds, beating out the Porsche 918 Spyder that has an official acceleration time of 2.5 seconds.
Musk has said before that he wants the Roadster to be the company's fastest vehicle, but this is the first suggestion he's given that the car could reach below the 2-second mark.
Tesla is in danger of losing its crown, giving the 2-second goal a bit more urgency. The 2018 Dodge Challenger SRT Demon is expected to achieve an acceleration time of 2.1 seconds, piling on the pressure for Musk to pull something out of the bag to maintain the record achieved by the P100D.
Beyond speed, it's hard to know for sure what Tesla's plans are for the next version. Autopilot is a given, as every in-production vehicle includes the necessary sensors to enable the semi-autonomous feature. The company aims to enable cross-country autonomous road trips by the end of the year, something the next Roadster is also likely to include. Beyond that, though, Musk has been more concerned with other projects, like the Tesla semi truck, giving little more in the way of detail.
That hasn't stopped fans from speculating, though. Jan Peisert, a web designer based in Düsseldorf in Germany, produced a concept image of what the Roadster may look like, using design cues from both the original version and the upcoming Model 3 vehicle set to enter production next month.