SpaceX's Latest Successful Launch Means Its 2017 Goal is Within Reach
Elon Musk is on track to keep an ambitious promise.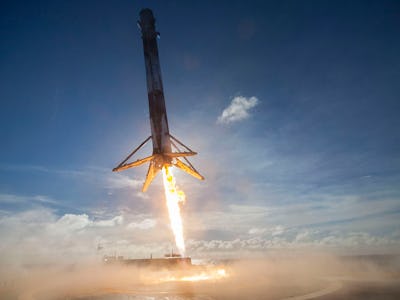 Flickr / Ben_Cooper
SpaceX successfully launched and landed its latest Falcon 9 rocket Monday afternoon from the Kennedy Space Center in Florida. The mission's success keeps the commercial spaceflight company on track to achieve a goal SpaceX president Gwynne Shotwell set in January, when she promised there would be at least 20 launches this year.
The mission itself was fairly routine, with the rocket launching a Korean communications satellite into orbit before landing on Of Course I Still Love You, a SpaceX droneship in the Atlantic Ocean off the coast of Florida.
The SpaceX webcast lost video just as the first stage landed, but here's visual confirmation the rocket booster successfully landed on the drone ship at 3:43 p.m. Eastern Monday.
"Little toasty, but stage one is certainly still intact on the drone ship," SpaceX's John Federspiel said on the webcast.
Unlike recent launches, there was no tight turnaround between missions or reuse of a retrieved rocket stage. This is about as close as it gets to business as usual for SpaceX, which underscores how remarkably ordinary the company has made its regularly scheduled spaceflights.
This is the 16th Falcon 9 launch of 2017, which means the company has now doubled the number of successful launches from 2016, with still two months to spare. And unlike last year, when three of the drone ship landings failed and a planned ninth mission was scrapped after the rocket exploded on the launch pad, SpaceX has successfully completed every planned launch and retrieval this year.
Here was the launch.
There are four more Falcon 9 missions on the schedule for 2017, which would bring SpaceX to an even 20 for the year. That's in line with what Shotwell promised in a January interview with CBS News, when she said the company planned to launch at least 20 Falcon 9 and Falcon Heavy rockets this year.
So far, all 20 have been Falcon 9 launches, with the status of the long-delayed Falcon Heavy still very much in question. If the planned Falcon Heavy demo launch does happen in the next two months, that would bring SpaceX's tally to 21, nearly equalling all the company's pre-2017 launches. It would keep the company one short of SpaceX founder Elon Musk's promise in a July Instagram post, where he said after the year's 10th successful launch that there were "another 12 to go."
The company's longer-term goal is to achieve a weekly launch schedule by 2019, according to internal documents from early 2016 published this January in The Wall Street Journal. Those same documents suggest the company's hope had been to launch 27 rockets this year, which it will fall short of.
However, the completion of repair work on the launchpad at Cape Canaveral Air Force Station — which was heavily damaged by the explosion of the Falcon 9 rocket in September 2016 — should make it easier for SpaceX to up its launch schedule in 2018.
In the meantime, the next scheduled SpaceX launch is set for November 16, when a Falcon 9 rocket will launch a mysterious payload built by defense contractor Northrup Grumman. After that, SpaceX will undertake its third launch using a recycled rocket booster on December 4 for a resupply mission to the International Space Station.
Here's the complete video of the launch.
Additional reporting by Corey Plante.
If you liked this article, check out this video on how Elon Musk became so popular.