Here's How the iPhone X's Size Surprisingly Compares With Earlier Models
The new iPhone X is actually not the biggest Apple phone.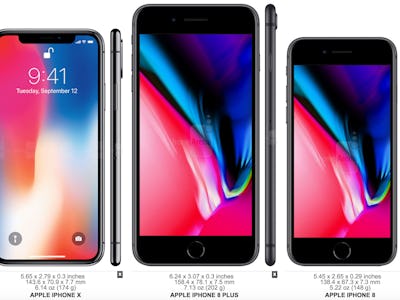 phoneArena
Remember when your iPhone could comfortably fit in your back pocket without bending in half or impersonating a tablet? It's been a minute.
Luckily, Apple demonstrates that bigger doesn't necessarily mean better with its iPhone X, which will be sold in stores starting November 3. The iPhone X measures in at about 5 1/2 inches tall, under 3 inches wide, and a little more than 6 ounces — about the weight of a softball.
That means it's getting a small reduction in size from previous iPhone Plus versions, which have all measured more than 6 inches tall and 3 inches wide. This is also Apple's thickest phone since its colorful line of iPhone 5C models, so maybe these won't be privy to bending like the iPhone 6.
And here's how it stacks up against the also new iPhone 8 and iPhone 8 Plus.
Apple has also simplified the color options for the iPhone X, focusing instead on the new phone's facial recognition software and larger screen display.
To get a sense of how big the iPhone X is, check out this size comparison with the iPhone 7 and iPhone 7 Plus.
See also: The 6 Subtle Differences Between iPhone 8 Plus and iPhone X
Android users, for comparison: The new Samsung Galaxy Note 8 is about the same size as the iPhone 8 Plus, coming in at over 6 inches tall and just about 3 inches wide.
See also: The iPhone X Camera: How Does It Stack Up to the Competitors?
Sound cool? These bad boys went on presale Friday at midnight Pacific Time and sold out that morning. And this is by far Apple's most expensive phone, starting at $999, because of course three digits looks better to customers than four.
For more on the iPhone 8, iPhone 8 Plus, and iPhone X, check out previous coverage, including: