iPhone X Launch 'Catastrophe' Will Drag On Longer Than You Think
This could go on for a while.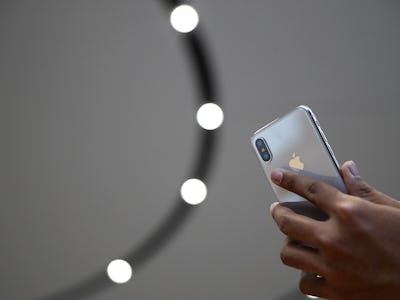 Getty Images / Justin Sullivan
If you nabbed an iPhone X when preorders went live on Friday, congratulations! You're part of an incredibly small group that might actually get their hands on Apple's latest smartphone sometime this year. Unfortunately, for most people, that's not going to be the case, with one retailer describing the then-upcoming global launch as a "catastrophe" thanks to a "chronic" shortage of devices.
"We know that some retailers and networks have only been assigned a tiny number of the handsets," one phone retailer told TechRadar in a Thursday story. "A tiny number. And maybe it'll be into January or February before there is enough stock to go round."
See also: How to Get the iPhone X Now That They've All Sold Out
The report coincides with what analysts have suggested for a while. Ming-Chi Kuo, an analyst from KGI Securities, initially predicted 40 million phones would be available during the holiday quarter but then lowered this number to between 25 and 30 million. Japanese news outlet Nikkei reported an even lower figure of just 20 million. By comparison, Apple sold 78 million phones last holiday quarter.
In many ways, it's not surprising. A report published Wednesday shows that Apple's decision to include an advanced face recognition scanner proved to be a sore point in production. The scanner fires infrared light at a user's face before projecting 30,000 dots in a flash, both of which are picked up by a camera. The technology is an effective way of measuring depth and was used in the Xbox Kinect that launched in 2010 to detect player motion. But the Kinect was about a foot long, so Apple engineers had a big task on their hands to shrink it down.
See also: The 6 Subtle Differences Between iPhone 8 Plus and iPhone X
The iPhone X, unveiled in September at the Steve Jobs Theater on the new company campus, packs a high price tag along with this new technology. The 64GB version retails for $999, while the 256GB version comes in at $1,149. It's the most expensive starting price for an iPhone yet, beating out the $749 iPhone 8. Plus, that went on sale earlier this month.
With a high price and low shipment rate, it's probably going to be a long time before scanning your face to unlock your phone becomes a more regular sight on the street.
For more on the iPhone 8, iPhone 8 Plus, and iPhone X, check out Inverse's previous coverage: