How to Get the iPhone X Now They've All Sold Out
Apple's next smartphone is almost here.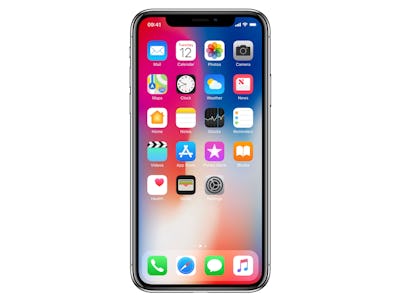 Apple
Whelp, it's done. At 12:01 a.m. Pacific time on Friday, Apple started accepting pre-orders for the iPhone X, its face-scanning, giant-screened smartphone. Although commentators balked at the prospect of raising the starting price even further to $999, the initial batches have already been spoken for.
It's going to be hard to get your hands on one this year. Japanese news outlet Nikkei reported a figure of just 20 million phones will be available this holiday. By comparison, Apple sold 78 million phones last holiday quarter. One retailer has described the launch and its limited numbers as a "catastrophe."
See also: The 6 Subtle Differences Between iPhone 8 Plus and iPhone X
But all is not lost. If you weren't part of the madding crowd that scrambled to save their slot when the device launches on November 3, there are ways to get your hands on it soon. Here are some of your best options:
Apple's Retail Stores
Queuing up on launch day is probably your safest bet. Apple plans to stock a number of devices in-store in 55 countries and territories around the world, so small groups can get their hands on one from the word go. At 8 a.m. local time on November 3, customers will be able to walk into the store and pick up their own iPhone X.
Plus, you may see your face in the newspaper! These events typically attract large crowds, and press are likely to be in attendance taking photos of excited fans:
Some buyers go to great lengths to make sure they get their phone on the day, bringing camping equipment along to secure their place in line:
Apple's Website
You can still place an order for an iPhone X from Apple directly, but it's going to be a long wait. The website estimates that the phone will be delivered within five to six weeks, and there's a chance that figure could slip further as the company grapples with a high backlog of orders.
Another option is to check for in-store pickup on the website. On the order page, there should be an option to enter your ZIP code and see availability for Apple stores in the local area. This could prove to be a faster way of getting the phone, but if you're considering going to the store anyway, you're probably best trying to go along for the launch day.
See also: Why Apple's 'Aggressive' Decision Will Slow iPhone X Deliveries
Your Carrier
It's also worth checking the stock situation with your local carrier, as some may vary depending on levels of demand. AT&T, Sprint, T-Mobile and Verizon all offer their own order pages where buyers can check and see if something has come available.
Other Retailers
While Best Buy is taking pre-orders, much like Apple and other carriers it may be a while before the delivery arrives. It's better than Target, though, that is not currently accepting orders for the iPhone X. On the other hand, that does mean that you can get a better sense of when it's a good time to buy, from re-visiting the page on a regular basis and checking to see if there's any movement.
eBay
Simply can't wait? Try the nuclear option: eBay. At the time of writing, some listings have the 256GB iPhone X with a suggested price of $2,500. Of course, most people don't actually have the phone in their hands, so they're selling on the promise of a pre-order with a confirmed shipment date.
Although supplies are expected to be limited for the rest of this year, it's hard to recommend this option as the iPhone X is already pretty expensive as it is.