Mark Hamill Compares the Trump Pee Tape to 'Star Wars Holiday Special'
What a time to be alive, maybe.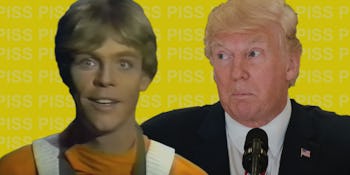 Getty Images / Drew Angerer
The original Star Wars cast is haunted by tape recordings of the infamous Star Wars Holiday Special. President Donald Trump is haunted by rumors of his own tape: alleged footage of him participating or facilitating a "golden shower" with some Russian prostitutes. The incident, which was included in a explosive dossier on Trump compiled by a former MI6 officer, has never been confirmed, but the president is understandably eager to discredit it. After tweeting about it over the weekend, Mark Hamill (aka Luke Skywalker) decided to give Trump some advice.
The dossier, which came to light in January right before Trump took office, was opposition research against then-candidate Trump created by former British intelligence agent Christopher Steele, an expert on Russia. There are rumors that it was initially financed by anti-Trump Republicans before he won the nomination, and Democrats took over financing it from there, but the firm behind the report won't reveal who paid for it.
Two officials from that firm, Fusion GPS, testified before a House Intelligence Committee on October 18 and pled the Fifth. Trump has been tweeting that he wants the people who paid for the dossier revealed, presumably because their identities will discredit the dossier.
Anyway, that's a long backstory to get us to Saturday, when Trump tweeted this:
Then on Monday afternoon, Hamill tweeted the following in response:
"You seem obsessed by this 'Dossier — Why keep reminding everyone?" he wrote. "Try ignoring it-like I do w/a certain Holiday Special that still haunts me."
The 1978 Star Wars Holiday Special is famously a piece of crap, so its perhaps only fitting that Hamill would think to compare it to something involving piss. But his suggestion — that Trump let the dossier go — is never going to happen. Even assuming the events described in the unconfirmed dossier never happened, The Donald is not one to stand down, even if it might be better optics for him to, idk, not keep bringing up allegations that he paid prostitutes to pee on a hotel bed. You certainly don't see George Lucas tweeting about the Holiday Special every day.