An Ethical Guide to Watching Porn Without Feeling Bad About Yourself
Here's how to watch porn without feeling bad about yourself before and afterward.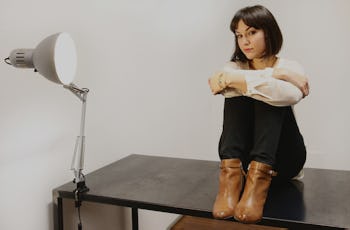 Getty Images / Vittorio Zunino Celotto
Many of us know the feeling. Just moments after reaching orgasm, looking at the computer screen with a feeling of shock at what you were just looking at. How fast do you exit out of a porn window after you're finished? Do you think your speed on the touchpad breaks the sound barrier?
Though we can't fully unpack the negative emotions that sometimes follow a porn-induced orgasm, there are many ways to reduce your guilty experience engaging with porn. Most people watch porn, and 8 percent of Americans actually watch it every single day. If you're already in the habit, don't you want to own it and make sure you're still engaging with erotic images in a way that doesn't hurt others?
Perhaps porn makes you feel uncomfortable because you're not 100% sure performers aren't being manipulated or coerced. Maybe you're not sure what genre of porn you prefer to watch, but searching through free porn sites and experiments can feel like walking through a minefield. Maybe porn without emotional context feels animalistic or hollow.
A study in 2014 found that women watching pornographic videos that had been removed from any plot developments or emotional context felt "sick" afterward, no matter what sexual acts the performers were engaged in. No matter your hang-up, there's a way to watch pornography ethically and safely.
However, being addicted to pornography is a serious condition that requires input from a medical health professional. If you find that your porn viewing habits interrupt your life, or that the emotions tied to watching porn plague you throughout the day, you may benefit from calling Sex Addicts Anonymous at 1 (800) 477 8191.
Everyone needs to be safe and comfortable
As in real life, sex on film is always best when all parties involved have expressed consent (at the very least) and, hopefully, excitement. Speaking with Inverse about his upcoming Justice League porn parody, Axel Braun says, "I don't cross certain lines in my scenes. No slapping, no choking, no demeaning, no coercion, and definitely no fish-hooking. […] I believe that sex can be strong without being rough, and I'd rather sell that truth instead of a degrading fantasy. At the end of the day, I film what looks good on camera, and sex always looks best when there's passion and chemistry between the performers." If you're watching a recent Braun film, at least you can feel affirmed that all of the actors have been treated well on set, and that they're definitely wearing condoms.
Some sites, including PornMD, don't allow users to search for terms that lead to non-consent porn, like "forced". If you search "forced" on Porn MD, you get this message:
If you want to commit to watching solely consensual porn, but you're worried about your videos feeling too vanilla, consider that images of consent can actually get pretty freaky without getting, you know, illegal. r/consentacles, for instance, compiles hentai images in which human women enjoy being penetrated by tentacle monsters. BDSM porn online can slip quickly into images of women being degraded (if you don't know where to look), but gender-flipped rough sex porn actually tends to have a lot of prior conversation and boundary-setting.
In the female dominatrix category of most pornography, there's always "post orgasm torture" (in which a woman pleasures a man past the point where he's orgasmed, and he's reduced to whimpers) and the phenomenon of "ruined orgasms". In "ruined orgasm" porn, a man has sex with a woman who chooses the moment of his climax to either disclose something disturbing, or laugh at him, or stop engaging with him sexually. That loss of rhythm excites a lot of people who view it.
Consider paying for a service
Hold on, don't walk away. I know what you're thinking: "I can access free porn at any time, with little effort. Why on earth would I pay for my porn?"
Counterpoint: you're already curious about improving your personal experience with pornography, and you probably pay for services like Netflix or Hulu or HBO Now. How many times a week do you watch Netflix, and how many times a week do you watch pornography? If you had evidence that porn depicting violent or non-consensual sex affected your body's stress levels and the way you perceive other people you're attracted to, wouldn't you want to watch porn that combated those negative effects?
Paying for a curated service like Lust Films (link NSFW) or Beautiful Agony (also NSFW), a site that has been collecting videos of men and women having real orgasms since 2003, often means you're not stumbling upon disturbing videos of acts you don't really want to be exposed to — we're all better off having never seen someone raped, for instance.
But what if I'm broke?
If you're unable to purchase pornography, you can still benefit from curation services performed by horny volunteers on Reddit and Tumblr and other sites. Lady Cheeky, a Tumblr blog, simply reblogs pornographic gifs in which women enjoy sex acts as much as their partners. Subreddits like r/chickflixxx and r/passionx offer collections of pornography with emotional context, offered up by viewers and screened by moderators.
Homemade porn, whether posted to Pornhub Community (NSFW) or subreddits like r/gonewild, or streamed live via websites that pay their contributors, like MyFreeCams.com, often comes with an added dose of reality that can remove pornography from its nebulous, dreamy, secretive place in your routine and put it in the forefront of your mind. If you are, for instance, a person who pays to watch episodes of Game of Thrones, you should probably be a person who pays adult performers for what they do.
Granted, it's more difficult to sign up for a MyFreeCams.com account and "tip" performers than it is to search "lesbians" on Redtube, but there is a certain kind of pleasure in knowing you're directly paying a performer for her service, as opposed to watching her have sex in a torrented clip.
Changing your porn viewing habits to match your everyday values may not be an outright revolutionary act, but it can certainly improve your morale. Everyone, including those who don't have or want sexual partners, deserves to explore physical pleasure without feeling disturbed or haunted by the darkest reaches of the internet. If you stumble across something you wish you hadn't seen, in the mean-time, there's always r/eyebleach.
See also: Why Problematic Porn Site xHamster Wants to Produce 'Sense8'