Inside Axel Braun's Biggest Porn Parody Yet: 'Justice League XXX'
"Actors can expect to be on set for at least 20 hours, and to have really uncomfortable sex while wearing some weird superhero costume."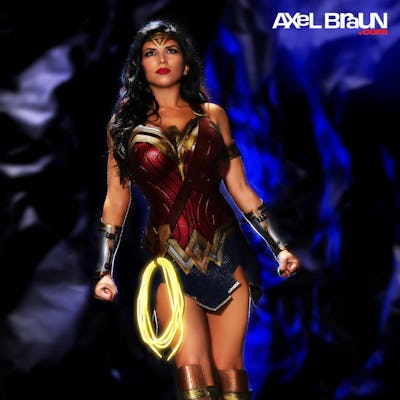 Axel Braun
Axel Braun is the king of porn parody, with no competition on the horizon. The man has adapted Star Trek, Star Wars, all the Disney princesses, Game of Thrones, and all the big Marvel and DC movies into feature length adult films, each one with a higher production value than the last. His movies make millions, and he cleans up at every AVN Awards show — that's the Oscars of porn. What's more, his talent tends to nab the AVN acting awards - just last year, Kleio Valentien won Best Actress for her stunning turn as Harley Quinn in Suicide Squad XXX: An Axel Braun Parody.
Because Braun's work falls legally under parody, he's able to do things with your favorite comic book characters that mainstream movie studios can't. He's had Spider-Man fight Superman in a battle with impressive SFX, and his Avengers have already met and fought the X-Men. Ironically, his superhero films started including more female characters than the mainstream movies did early on. Braun has even introduced canon queer characters like Batwoman, who's still conspicuously absent from the many, many Batman adaptations we've seen in theaters.
Braun took time away from filming his huge Justice League porn film to speak with Inverse about his process, why his raunchy superheroes always use condoms, why even his supervillains won't slap or demean a woman, and how he keeps building his empire.
Are you in porn parodies because you love all these geeky properties, or did you just anticipate that they were going to sell?
Being able to see characters you already know and love portrayed in sexual situations is very appealing to fans, as long as they can tell that there's genuine knowledge and appreciation for the original. I only parody source material that I have a strong emotional connection to, and I think the key to my success is really that I am a fan myself. My target demographic is also different from most adult directors; my movies actually attract people who don't habitually buy porn.
I also strongly believe in quality, and the fact that my products are so commercially successful must be an indication that the viewers share my sentiment. As far as picking the next project, timing and relevance definitely play a big role in my decisions, but they never override my attachment to the source material. The truth is that I am first and foremost a geek, so I guess I know what other geeks want to see.
Why did you decide to have all your performers start wearing condoms back in 2014?
After the birth of my daughter, in 2013, my perspective on life changed quite a bit, and that reflected on my business as well. First, I raised the minimum age to appear in my movies to 21, because I came to strongly believe that an 18-year-old fresh out of high school has a completely different outlook on life than he or she will have three years later, and I just wanted to allow them enough time to make a more informed, mature decision.
And while I had been vocal against condoms in the past, I realized that deep down my stance was motivated by financial gain. Our testing system is extremely thorough and effective, but I wanted to add an extra layer of safety for the performers, and since condoms are actually required by law in Los Angeles County, I also didn't feel comfortable doing something illegal. It was a bold move but also a very stimulating one for me, because I set out to prove that porn movies with condoms could be just as successful and arousing as the ones without them. So I signed with Wicked Pictures, which is the only condom-only company in the business, and I have topped the sales charts and won the AVN "Movie of the Year" Award every single year since then, so you could say I proved my point.
How do you think porn affects our independent sexuality? Do you feel a responsibility to your viewers that way, or do you just film your own fantasies?
There is definitely a sense of responsibility, and that's why I don't cross certain lines in my scenes. No slapping, no choking, no demeaning, no coercion, and definitely no fish-hooking. (You might have to look that one up.) (Writer's note: I didn't have to.)
I believe that sex can be strong without being rough, and I'd rather sell that truth instead of a degrading fantasy. At the end of the day, I film what looks good on camera, and sex always looks best when there's passion and chemistry between the performers. So I try to pair people who I think will work well together, and then I just capture them having hot, dirty sex. I'm part cupid, part voyeur.
Can you describe what it's like to be on set for your Justice League parody? Do your actors care about staying in character? Do you talk with them about how a certain superhero would probably experience sex?
When I shoot a big movie, and Justice League XXX is the biggest one I've ever done, actors can expect two things: to be on set for at least 20 hours, and to have really uncomfortable sex while wearing some weird superhero costume.
But they also know that they'll be part of something that will raise the bar, and that they'll have a solid shot at some award nominations. That means everybody is always 100 percent invested in these projects, and their commitment shows in their performance. They stay in character, they rehearse their lines ad nauseam — they bring their A-game.
Still, it's not a walk in the park, and I always sit down with any actors who haven't worked with me before and not only explain the psychological aspects of their character but also disclose how painful the process will be. I am always positively anal about my projects. I storyboard each shot and do a great deal of pre-production … but all the care and preparation in the world still requires the stars to align in a very specific way in order to create that magic that sets a movie apart.
That was definitely the case in all three of my AVN Movie of the Year winners: With 24 XXX, it was Kurt Lockwood, back from an 8-year hiatus, who shared my passion for the TV show and delivered an inspired performance as Jack Bauer. In Peter Pan XXX, it was the combination of Ryan Ryder, an absolutely amazing actor and performer from Scotland, who truly brought Peter to life. With Suicide Squad XXX, it was a little more complicated; it had a huge ensemble cast and all characters shared almost every scene, so not only did it presented logistical challenges, but I also needed extraordinary performances from all of them. And that is basically just what happened …
Tommy Pistol, who bleached his hair white and dyed it bright green to play the Joker, was simply fantastic, and Kleio Valentien managed to top her 2016 AVN award-winning performance as Harley Quinn with an even more intense and multi-layered portrayal of the same character … seeing her win Best Actress again was the highlight of my night. And then there's Asa Akira who learned sword fighting for the role [as Katana]; Seth Gamble, who grew mutton chops and hired an Australian dialect coach to master his Aussie accent for Captain Boomerang. Anna Bell Peaks dyed her trademark pink hair blue for Killer Frost; Nyomi Banxxx, who came out of retirement to bring Amanda Waller to life and managed to win a Best Non-Sex role for it; and Riley Steele, sexy and lost as the powerless Enchantress, who dyed her hair black for the role. So, yes, it is a combination of timing, passion, and a massive dose of luck. And people willing to dye their hair, because I am totally the Zohan of porn.
See also: Scientists Have Categorized 3 Types of Porn Viewers