Porn Website Wants to Produce a New Season of Netflix's 'Sense8'
Porn website xHamster wants to produce new seasons of the Wachowski's 'Sense8.'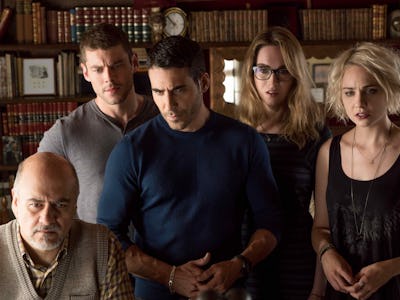 Netflix
The exceptionally seedy porn website xHamster is looking to join the cluster. The site's vice president published a letter on Wednesday that he sent to Lana and Lilly Wachowski, co-creators of Netflix's recently canceled Sense8, offering them the opportunity to continue the cult classic show with xHamster producing, rather than Netflix.
Despite Netflix's ownership of Sense8's intellectual property rights and the announcement that the streaming service has already greenlit a 2-hour series finale to wrap up the story after fans rioted over the show's cancellation, xHamster seems hopeful the Wachowskis will consider its offer.
Here's a full transcript of xHamster Vice President Alex Hawkins's offer to the Wachowskis:
Dear Lana and Lilly,
We recently read that you're working on a third season of Sense8 despite the fact that Netflix has no plans to renew the series. We know it's unconventional, but we want to bring it back — on xHamster. We're not talking about a parody, or something less than, but an actual revival of the series.
Ever since we read about the canellation, we've been wondering if there was something we could do. While we're happy Netflix is picking up the series for a conclusion, before you wrap up the story, we wanted you to consider another option — letting xHamster produce the series.
Hear us out.
xHamster is currently one of the most trafficked websites on the internet. We get more visitors daily than the New York Times, ESPN or the Daily Mail. In short, we have the eyeballs, and the revenue. Unlike with Netflix, you wouldn't be competing for part of our production budget — it would be yours.
We also have the disposition. We know that a series about polymorphous perversity is a hard sell for a mainstream network like Netflix. We have no such limitations, and also understand implicitly the interconnectedness of sexualities across boundaries. In short, we are a we.
xHamster has a long history of fighting for the rights of sexual speech, and non-normative sexuality. In addition to allowing billions of users to connect with individual articulations of gender and sexuality, we continue to use our audience to speak up against repressive anti-LGBTQ laws in the US and abroad, and for sex ed in public school Planned Parenthood and the rights of sex workers.
We'd like to set up a meeting to see if there's some fit for us in the future of Sense8. We know we're an unlikely home. But five years ago, people laughed at the idea of Netflix producing original series. We think that our time, like yours, has come.
Now, the problem with xHamster producing a show like Sense8 isn't that it's a pornography site; it's just that xHamster is a particularly damaging site. Unlike Pornhub or PornMD, xHamster doesn't filter out images of non-consent (or, you know, rape). The site also leaves offensive titles and categories up, and many of those are at odds with the politics of Sense8 and the show's two transgender creators. There's no way the Wachowskis would sign over production of their series to a site that boasts videos tagged "chicks with dicks".
The 2-hour finale of Sense8 will be released sometime in 2018, so the gang would have to move fast — and potentially risk Netflix's wrath — to continue the series beyond a movie-length finale.