'Sense8' Renewed by Netflix for a 2-Hour Special Finale
Rally the cluster because the sensates are going to war.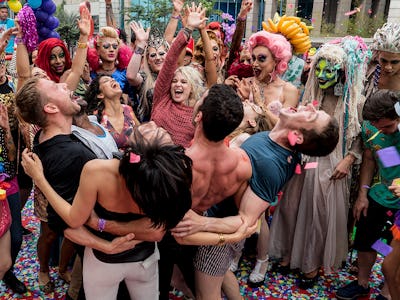 'Sense8'
After struggling to balance an exorbitant budget with ratings that weren't exactly mind-blowing despite a passionate fan base, Sense8 was prematurely canceled earlier this month; but now, a two-hour finale special is officially in the works.
The welcomed news comes from a letter shared via the official Sense8 Twitter account penned by co-showrunner Lana Wachowski. In the letter, she explains how "the numbers have always been challenging" when it came to measuring the show's moderate ratings against its reported cost of around $9 million per episode. Luckily, in the wake of an outpouring of fan support and some aggressive trolling of Netflix following the June 1 cancellation, the streaming service has green-lit a "2-hour special" that's slated to come out next year.
"The passionate letters, the petitions, the collective voice that rose up," Wachowski wrote, "… was beyond what anyone was expecting." Even Netflix was forced to listen, and when it comes to the future of Sense8 beyond this 2-hour special, Wachowski optimistically says, "You NEVER know."
Read Lana Wachowski's letter in full right here:
"After seeing that the cancellation was a total cluster, we decided to give Sense8 fans the ending they totally deserve," a Netflix spokesperson told The Hollywood Reporter.
The news will no doubt delight many fans, as Season 2 ended on a cliffhanger, leaving many lingering questions and a feeling of uncertainty, especially regarding the fate of Wolfgang, one of the main characters.
Sense8 follows the lives of eight "sensates," a group of different human species born simultaneously that are telepathically bonded, sharing emotions and experiences. The diverse cast of characters hail from different countries around the world, and though they share very little in the way of experiences, the close relationships between the cluster's members and the open-mindedness of the show as a whole stand out as entirely unique in television.
The two-hour finale episode of Sense8 will be released sometime in 2018.