'Sense8' Fans Don't Care That Netflix Is Pro-Net Neutrality Again
They just want their show back, goddammit.
by Monica Hunter-Hart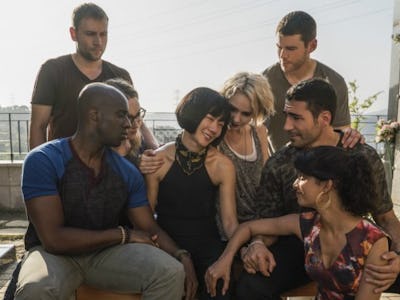 Netflix
Fans of Sense8 were devastated when Netflix announced on June 1 that it had cancelled the show. So when the network seemed to reverse its (previously terrible) stance on net neutrality, they weren't ready to join in any sort of celebration. Instead, they opted to spam Netflix's Twitter page.
"Netflix will never outgrow the fight for #NetNeutrality. Everyone deserves an open Internet," the network tweeted on Thursday, seeming to indicate that it would participate Fight for the Future's "Day of Action" to advocate for an open internet.
But Sense8 fans weren't down to give Netflix any props for this step in the right direction. They were focused on sending a different message:
Unfortunately, it's unlikely that this slew of tweets will make an immediate difference for Sense8. Netflix acknowledged the backlash against the series' cancellation in an Instagram post on June 9, but said that it makes no difference:
Obviously, Sense8's cancellation is terrible. First of all, the series was important; it was a rare show that actually represented a host of diverse characters in terms of race, sexuality, gender identity, and nationality. Plus, the last season ended on a major cliffhanger; now viewers will never get to see the outcome of the crew's war against the villainous Biological Preservation Organization. It makes sense that people are heartbroken.
Well, Netflix has revived plenty of shows in the past, from Gilmore Girls to Arrested Development. We're unlikely to get a third season of Sense8 right now, but in a few years, who knows?