'Arrested Development' is Coming Back for Season 5 on Netflix
With, yep, the entire cast. Rejoice!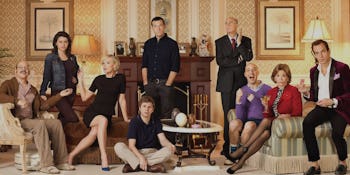 Netflix
Netflix has officially announced that it's bringing back the Bluth family for a fifth season of the cult classic comedy Arrested Development. The entire main cast, many of whom have gone on to be much bigger stars since the show first premiered on Fox almost a decade and a half ago, have all signed on for the next season. It's a pretty fitting time for Arrested Development to come back, too. The first three seasons pretty heavily spoofed George W. Bush's presidency. Now that Donald Trump is in the oval office, series creator Mitch Hurwitz is ready to riff on his administration, too.
"In talks with Netflix we all felt that stories about a narcissistic, erratically behaving family in the building business — and their desperate abuses of power — are really underrepresented on TV these days," Hurwitz said in a statement. "I am so grateful to them and to 20th TV for making this dream of mine come true in bringing the Bluths, George Sr., Lucille and the kids; Michael, Ivanka, Don Jr., Eric, George-Michael, and who am I forgetting, oh Tiffany. Did I say Tiffany? — back to the glorious stream of life."
Hurwitz was, of course, mixing the names of the Trump family kids (including oft-forgotten Tiffany) in with the Arrested Development gang. The previous season ended with the family daughter, Portia de Rossi's Lindsay Bluth, running for office with the promise to put a wall between the U.S. and Mexico. Which, uh, ended up being pretty darn prescient. Last year, Hurwitz told Entertainment Weekly that the show might have to pull back on some of the Trump jokes for Season 5 because they're hitting too close to home, but it's clear he won't be abandoning Arrested Development's wry political streak. He just has the unenviable task of trumping Trump when it comes to crazy ideas.
In addition to riffing on Trump's America, Arrested Development will also tie up some loose ends from Season 4, which ended with Tony Hale's Buster Bluth getting arrested and accused of murdering Lucille Two (Liza Minnelli). Back in 2016, Hurwitz told EW that "there was a lot of Making a Murderer" in the DNA for the next planned season, though it's unclear if that will still be the case. They've got to solve this crime somehow, though.
Stars de Rossi, Hale, Jason Bateman, Michael Cera, Jeffrey Tambor, Will Arnett, Jessica Walter, David Cross, and Alia Shawkat are all coming back for Season 5. During Season 4, the first revived season to air on Netflix, there were only a handful of scenes where the entire cast could be in the same room at once due to scheduling issues. Netflix is going to begin shooting the episodes as early as this summer, so hopefully Season 5 will feature more of the family together.
Arrested Development Season 5 will air sometime in 2018.