Here's All the New Anime That Netflix Just Announced
Netflix is really going all-in on anime production.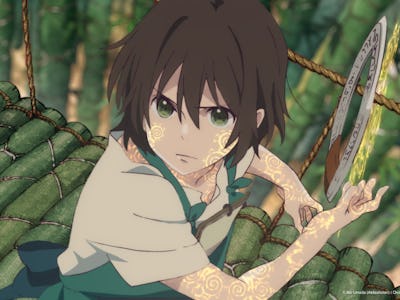 Netflix
Between exclusive streaming rights to the Castlevania anime adaptation alongside other titles like Knights of Sidonia and Blame!, Netflix is quickly becoming a formidable presence in the realm of anime streaming — but that was apparently just the beginning. Netflix has huge plans for expanding its catalog of exclusive anime over the next year and beyond, and it seems like the service is kicking that plan into high gear.
At its 2017 Anime Slate event in Tokyo on Tuesday, Netflix announced it's developing a slew of original and adapted anime programming that it has lined up to premiere over the next year. This is, of course, in addition to the already greenlighted Season 2 for Castlevania and a hotly-anticipated live-action adaption of the Death Note manga and anime.
Netflix already has a solid relationship with Polygon Pictures, the studio behind several of the service's already-released original anime, but it will also collaborate with Bones, the studio behind mega-hit Fullmetal Alchemist, and even the creators of Ghost in the Shell on a new anime series based on manga that's never been adapted before.
Here's all the anime coming to Netflix, listed in alphabetical order:
A.I.C.O. Incarnation
The year is 2035, and an experiment goes terribly wrong. In the event called the Burst, "an out-of-control artificial life form called Matter" explodes into existence and quickly spreads. Two years later, a young girl discovers that she might hold the key to stopping this bizarre threat. She'll just have to infiltrate the very heart of the quarantined zone.
12 episodes of A.I.C.O. Incarnation will debut in spring 2018.
B: The Beginning
What was formerly known as Perfect Bones got a new title as B: The Beginning.
"In a world powered by advanced technology, crime and action unfold in the archipelagic nation of Cremona. Koku, the protagonist. Keith, the legendary investigator of the royal police force RIS. A mysterious criminal organization. A wide variety of characters race through the fortified city as it is beset by the serial killer, Killer B, and a chain of crimes in this suspense drama by director Kazuto Nakazawa and Production I.G."
B: The Beginning will air its 12 episodes on Netflix in spring 2018.
Baki
Based on the widely popular manga of the same name, Baki follows Baki Hanma, a fighter training to surpass the strength of his world-renowned father. Some of "the world's most violent and brutal death row inmates" gather to face Baki in the hopes of finding someone who can actually defeat him, so, yeah, stakes are high.
The manga is not terribly dissimilar to what you might get from Dragon Ball Z if there were no Dragon Balls or magic chi powers of any kind. It's a grittier kind of story about brawls and hand-to-hand combat.
Netflix has announced 26 episodes of Baki,but no release date yet.
Cannon Busters
Cannon Busters focuses on an oddball trio of characters on a fantastical adventure.
Here's the official synopsis:
"… the series follows the adventures and exploits of S.A.M, a high-end, royal-class friendship droid who's joined by a quirky, discarded maintenance robot and a brash, deadly fugitive. Together, the unlikely trio embarks on an unforgettable journey in a fantastic and dangerous world in search of S.A.M's best friend, the heir to a powerful kingdom under siege."
Cannon Busters will get 12 episodes with Netflix. There isn't an exact release date yet.
Children of the Whales
Set almost a century after the world was overrun by oceans of sand, 513 people live isolated on an island they call a "Mud Whale." This island-like ship is basically a sandcastle.
Here's part of the official plot description:
"Chakuro, the island's archivist endowed with special powers, meets a mysterious girl named Rikosu as he investigates an abandoned ship that drifted up to the Mud Whale one day. It is the first time anyone on the island has made contact with someone from the outside world, but is it an auspicious sign that a new world awaits?"
Children of the Whales is slated for release sometime in 2018.
Devilman Crybaby
As an ancient race of demons invade Earth in an effort to take it back from humans, protagonist Akira Fudo resolves to fuse himself with a demon. He "succeeds in transforming into Devilman, who possesses both the powers of a demon and the soul of a human." Devilman will quite literally fight fire with fire, but he'll also struggle to retain his human identity.
Ten episodes of Devilman Crybaby will be released to Netflix in spring 2018.
Fate/Apocrypha
Participating in what's referred to as a "Great Holy Grail War," 14 "heroic spirits" split into two factions and face off in an epic medieval, but thoroughly magical, war. The various knights and mages have incredible powers, and their many battles will be the primary focus of Fate/Apocrypha.
The 25-episode series is due for a November 7 release in the U.S.
Godzilla: Monster Planet
The first anime version of Godzilla ever will tell an entirely new kind of kaiju story for the beast in an animated feature-length film. Godzilla: Monster Planet explores some "uncharted territory." According to Netflix, it is "a harsh world of the future in which Godzilla has dominated the Earth for the past 20,000 years."
Polygon Pictures (the same studio behind Blame! and Knights of Sidonia) is a perfect fit for the post-apocalyptic distant future of Godzilla: Monster Planet, as their previous Netflix anime productions were similar in scope. Except, you know, they didn't feature any giant lizards.
Godzilla: Monster Planet will be released in Japanese theaters sometime in October 2017 before hitting Netflix in November.
Kakegurui
Typically subtitled "Compulsive Gambler," especially in its manga form, Kakegurui takes place in Hyakkaou Private Academy, where rich and privileged students bet entire fortunes in different games. Those who owe debt are forced into slavery as the successful rise to the top of the school's hierarchy. A new student happens to be a crazed gambling addict that gambles for the thrill, which throws the school and its administration into chaos.
Twelve episodes of Kakegurui will premiere on Netflix sometime in 2018.
Knights of the Zodiac: SAINT SEIYA
Featuring the supposedly "modern day adventures" of heroes sworn to protect the reincarnated Greek goddess Athena, Knights of the Zodiac focused on just the Knights of the Zodiac. Each knight utilizes uniquely powerful armor based on the specific zodiac signs in an ongoing battle against the Olympian gods who would destroy Athena and humanity.
Knights of the Zodiac will have 12 episodes. There's no release date yet.
Lost Song
A completely original story billed as a "classic fantasy" featuring two female heroines, Lost Song follows a young villager and a songstress living in the capital city. Each has a special power: "A miraculous power that can heal wounds, create water and stir the wind — the power of song." As war threatens to break out in the kingdom, both these young women use their magical voices to heal and help where they can.
Twelve episodes of Lost Song will hit Netflix sometime in 2018.
Rilakkuma Series (working title)
Rilakkuma literally translates to "relax bear," which is a fitting title for a character unattached to any consistent stories or manga, whatsoever. He's just a stuffed bear who showed up out of nowhere one day to bother an office worker named Kaoru, and he's often joined by a similar bear and a pet bird. Though previously just a character meant to be slapped on merchandise — to wide success in Japan — Rilakkuma is getting a stop-motion animation production based on the character.
Rilakkuma will get 13 episodes, with no confirmed release date.
Sword Gai: The Animation
Billed as an epic "battle action fantasy," Sword Gai follows Gai, a man who has the remnants of a demon sword forged into his artificial arm. Unfortunately, that sword might have other plans:
A weapon that has drawn the blood of countless victims becomes legend, and at times takes on a life of its own. When such a weapon's human host is filled with hate and murderous intent, he becomes a demonic combination of weapon and man that thirsts only for slaughter.
The Sword Gai series will debut on Netflix in spring 2018.