First Anime 'Godzilla' is Coming to Netflix This Year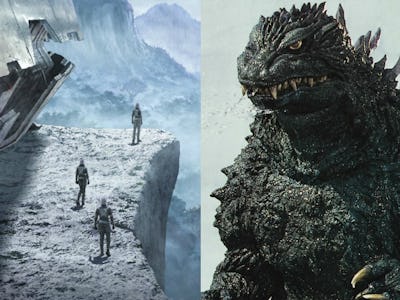 Netflix, Godzilla Wikia
A brand new version of Godzilla is heading into a distant sci-fi future thanks to Netflix. The first anime film starring Toho's iconic monster Godzilla, simply titled Godzilla, will be available to stream globally on the VOD platform later this year following a theatrical release. The announcement was made early Monday morning, Eastern Standard Time (6:30 p.m. Japan Time) on the official Netflix Japan Twitter page.
The tweet, posted in Japanese with a translation by Japanese sci-fi expert August Ragone, reads: "Created by the gifted tag team of Kobun Shizuno x Hiroyuki Seshita x Gen Urobuchi and Polygon Pictures, the animated movie 'GODZILLA' will be exclusively distributed worldwide by Netflix! Release date to be announced soon!"
A press release from Netflix confirms the film's arrival to the platform. "We are truly delighted to unveil Godzilla, which is the latest addition to our growing catalogue of Netflix original anime content," said Netflix Japan President Greg Peters in a statement. "Working with the best creators such as Toho in bringing Godzilla to Netflix users in over 190 countries marks a major milestone for us."
Further details of Godzilla will be unveiled on Sunday, March 23, when the film takes center stage at AnimeJapan 2017 at the Tokyo Big Sight in Tokyo with the film's voice cast in attendance. The film will be co-directed by Kobun Shizuno (Detective Conan: The Darkest Nightmare) and Hiroyuki Seshita (Knights of Sidonia) with Kamen Rider Gaim screenwriter Gen Urobuchi penning the script.
The press release and the poster art reveal Godzilla will take place in the future, which is different from the contemporary settings from almost all Godzilla media. The poster shows humans walking out of a spaceship overlooking Earth (or at least an Earth-like planet), while the concept art from Polygon Pictures shows off mutated forests and a spaceship hangar.
Toho and Polygon Pictures' Godzilla will be the first anime feature film starring the King of the Monsters. Previous "animated" versions of Godzilla were TV shows like the chibi-styled Godzilland, aimed at young children, and Godzilla Island which used toys and puppets. In America, two cartoons were produced: Hanna-Barbera's Godzilla from 1978, and Sony's Godzilla: The Series, a sequel to the 1998 Hollywood movie. Neither programs were artistically anime.
As of Monday, is no confirmed release date of the new Godzilla.