Here Are the Odds of Barb From 'Stranger Things' Winning an Emmy
by Monica Hunter-Hart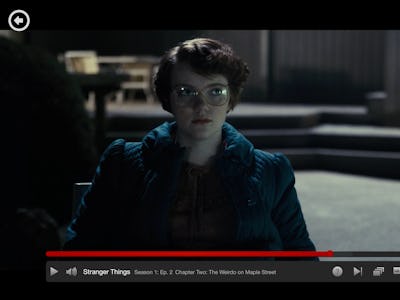 Netflix
Shannon Purser, the lovable, strait-laced misfit from Stranger Things, was nominated for an Emmy in the "Outstanding Guest Actress in a Drama Series" category on Thursday, provoking a variety of extreme reactions from the internet. Fans of the Netflix's sci-fi show have been clamoring for Barb to get justice, so winning an Emmy might be the next best thing. But, is it plausible? Professional oddsmakers from Sports Betting Experts have weighed in, and they think that Purser actually has a great shot.
Specifically, the chances are +350 (moneyline odds) or 7/2 (fractional odds). The Handmaid's Tale actress Alexis Bledel is the most likely to win the category, but Purser is in second place. Here's the full list of nominees in order of the probability of their victory, from highest to lowest:
Alexis Bledel (The Handmaid's Tale): +200 (2/1)
Shannon Purser (Stranger Things): +350 (7/2)
Allison Wright (The Americans): +400 (4/1)
Laverne Cox (Orange Is The New Black): +450 (9/2)
Ann Dowd (The Leftovers): +450 (9/2)
Cicely Tyson (How To Get Away With Murder): +650 (13/2)
This analysis is based on a few key factors, including that the Academy of Television Arts & Sciences (ATAS) relishes symbolism; in Purser's case, there's "a confluence of factors that create almost a 'perfect storm'" and might bring her a win.
First, there's the youth factor, since Barb was a favorite among Stranger Things' younger viewers. "This is chance for the Emmys to validate this demographic and show that they're still relevant with a young audience in a changing broadcast landscape," says the analysis.
There's the historical legacy: Netflix has only recently begun making original shows and carving out a respected place for its content in the television world. HBO was in a similar place in the late 1990's, and a turning point for that network was when it received 111 Emmy nominations for The Sopranos in 1999. Sports Betting Experts thinks that ATAS is using Stranger Things nominations in likeminded fashion, to validate Netflix and prove that the network has broken into the mainstream world.
Relatedly, Stranger Things brought in a lot of nominations this year — 19 altogether. It's clearly an Emmy favorite, and that works in Purser's favor.
Then there's Purser's competition. "Historically, the 'Best Guest Actor/Actress' category has been one where the ATAS has honored veteran performers […] who have turned in a solid career in show biz but not in anything that brought them critical acclaim," says the analysis.
Ann Dowd most closely fits that profile, "but she's got an extensive TV resume." Cicely Tyson is "too 'decorated' to merit consideration." The series that feature Wright, Cox, and Dowd "don't have the 'buzz'" of Stranger Things and The Handmaid's Tale. That just leaves Purser and Bledel; and Purser could actually edge out Bledel if ATAS holds back on showering Hulu with awards (Hulu is a newcomer at the Emmys, having just gotten nominations for the first time this year).
Of course, odds are just well-educated analyses, not guarantees. But if anyone were to assess correctly, it'd be Jim Murphy, the designer of these stats for Sports Betting Experts; he's been studying and writing about odds for decades and is often consulted by entertainment and sports media.
"This is one of the more intriguing categories of the 2017 Emmys," he says, "and it'll be interesting to see how the entertainment and mainstream media 'buzz' surrounding Purser develops between now and September 17."
The second season of Stranger Things will premiere on Netflix October 27. The Emmy Awards will take place on September 17, 2017.