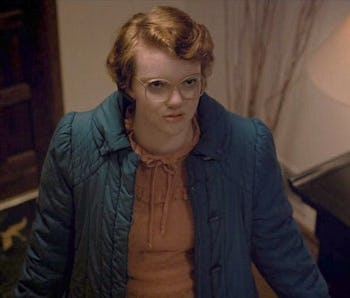 Entertainment
There Will Be No Justice for Barb in 'Stranger Things' Season 2
Netflix
Barb might have been snatched away to the Upside Down and then brutally killed in the first season of Netflix and the Duffer brothers' Stranger Things, but that didn't stop fans from demanding "Justice for Barb," even after her dead body was shown on-screen.
On June 15, in a Facebook Live video for The Hollywood Reporter, executive producer Shawn Levy crushed the dreams of so many Barb fans:
"I'll give one example that I've been asked about a hundred times, which is, people still think Barb's alive," Levy said. "Because you think you want that, but you wouldn't really want that. I've had a lot of people, some huge celebrities come up to me at these awards shows, like, 'So, between us, Barb's coming back, right?' I'm like, 'No, you saw. She had, like, a creature/slug/worm/snake coming out of her mouth. I don't know that there's a bounce back from that!'"
"So, no, we are not going to cravenly service the wishlist of fans; we're going to service the Duffer instincts and what they feel is the right story to tell."
So, it seems fair to say, once and for all, that Barb will not be returning for Season 2 of Stranger Things. Sorry to all you Barb fans out there.
Stranger Things Season 2 will be available to stream on Netflix on Halloween, October 31.