'Stranger Things' Season 2 Poster Reveals Early Premiere Date
An early Halloween treat.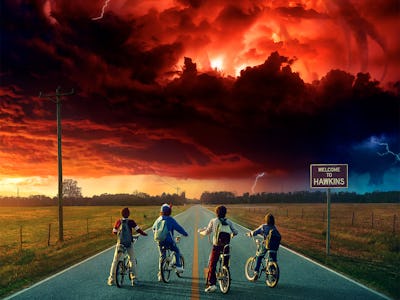 Dustin, Lucas, Will and Mike have spotted a giant demogorgon on the horizon of the city limits of Hawkins, Indiana, in new art for the second season of Stranger Things. This awesome new poster echoes the appearance of the same huge monster from the Stranger Things Season 2 trailer. But there is one new difference: The premiere date has moved up four whole days! The previous trailer for the second season of Stranger Things had made the release date for Season 2 on Halloween. But now, it looks like the new episodes will hit earlier. Which is great news for those who didn't want to binge the entire new season on Halloween night.
Beyond looking awesome, the new poster doesn't reveal much other than the four young boys will be central to the adventure of this season, assuming Will doesn't get sucked back into the Upside Down. Hopefully, with a poster release like this, a new trailer — maybe featuring Eleven — can't be far behind.
Here's the official synopsis from Netflix: "1984 and the citizens of Hawkins, Indiana are still reeling from the horrors of the demogorgon and the secrets of Hawkins Lab. Will Byers has been rescued from the Upside Down but a bigger, sinister entity still threatens those who survived."
Stranger Things Season 2 will hit Netflix on October 27.