The 'Stranger Things' Season 2 Super Bowl Trailer Is Here!
Welcome back to Hawkins, Indiana circa 1984.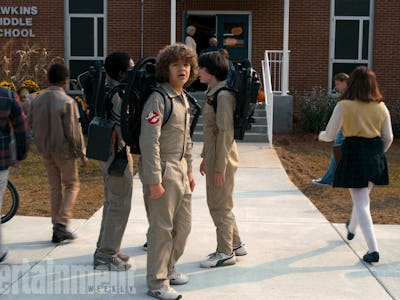 Netflix
When it comes to big games, we know that Mike Wheeler and his best buds Will, Lucas, and Dustin would be hours into a Dungeons & Dragons campaign instead of watching football. But instead of dropping the first highly anticipated trailer for Stranger Things Season 2 during some televised D&D match, they wisely chose the Super Bowl. Get ready to get nostalgic. The Stranger Things Season 2 trailer is finally here!
The second season of Netflix's hit supernatural sci-fi series takes place in 1984, a year after the events of the first season. Other than that, details about the plot have been seriously scarce. Mike, Dustin, Lucas, Will, and the citizens of Hawkins, Indiana are a year older and have to deal with the fallout from the main squad battling the Demogorgon and facing the Upside Down. The four main characters also have to deal with the supposed death of their favorite weirdo, Eleven.
Joining the first season cast — which included Winona Ryder as Will's mom Joyce, and David Harbour as police Chief Jim Hopper — are a handful of new characters. Dacre Montgomery is Billy, an unpredictable Camaro-driving pretty boy; Sadie Sink as Max, a tough and confident new girl who might befriend Mike; Linnea Berthelsen will play Roman, a girl who might have gone through government MK Ultra experiments; Sean Astin is Bob, a geeky RadioShack employee; and Paul Reiser as the new government stooge bad guy, Dr. Owens.
This trailer is the first time Netflix has aired a trailer for one of their streaming originals, and we couldn't think of better show to do it for than Stranger Things. Season 1 came out of seemingly nowhere in the summer of 2015 and became a zeitgeisty hit for casual streaming viewers to nerds who could pick out every single 1980s pop culture nod peppered throughout the show. It sure helps that it's an honest to god great show, which also has some a bit concerned. While the first season left enough breadcrumbs for fans to follow into Season 2, will series creators Matt and Ross Duffer be able to pull off what a lot of movies Stranger Things was based on couldn't: a sequel as good as the original?
The new season of Stranger Things will be released this Halloween.