Video Surfaces of Donald Trump Hitting on French First Lady
He also manhandled First Lady Brigitte while greeting her at Les Invalides.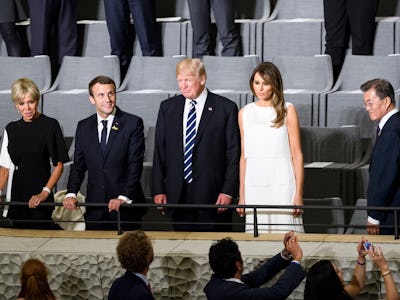 Getty Images / Pool
Here we go again. A new video clip of President Donald Trump leering at yet another professional woman has surfaced online today, and it's hard to feel anything other than exhaustion when watching it.
On Thursday, Trump arrived in Paris to meet with French President Emmanuel Macron and join celebrations on Bastille Day, on the 100th anniversary of America supporting the French Revolution. While in France, Trump also greeted French First Lady Brigitte Macron, and that's when the American president whipped out his taste for speaking to women as if they were thoroughbred horses.
NBC News senior reporter Brad Jaffy posted a video clip to Twitter depicting Trump speaking to both First Ladies Trump and Macron, and his audible comments are pretty uncomfortable.
Trump's critics, of course, take video evidence like NBC News's clip below as further evidence that our president believes women are objects.
In the clip, Trump says, "I had such a good time," possibly referring to the G20 conference. He then pauses and adds, "You know, you're in such good shape." He turns to Macron as if for approval, and then says, "Beautiful!" Though neither the French president nor the First Lady's response is audible, the clip captures Brigitte Macron responding physically by gently putting First Lady Melania Trump in between her own body and the American president.
At this point, Trump's supporters can't really deny that he has an uncomfortable way of approaching and speaking about women — too many incidents have been caught on tape. Instead of calling the president sexist, his supporters instead call him a "straight shooter" who sometimes engages in harmless "locker room talk." The narrative on the right regarding Trump's incidents of sexism is that he's unpretentious, or simply says things all men say or think. Critics also analyzed Trump's energetic and borderline aggressive handling of the French First Lady in clips like the one below.
Of course, this is far from the first uncomfortable example of Trump's sexist behavior around women — it's not even the first clip from 2017. In June, Irish reporter Caitriona Perry called the president "bizarre" when he beckoned her out of an international press junket to comment on her beauty.
Later in June, responding to jokes made on Morning Joe, the president tweeted a string of personal attacks aimed at Mika Brzezinski. Commenting on Trump's tantrum in a later episode, Brzezinski and her co-host (and fiancé) Joe Scarborough described Trump's long history of being more hateful toward Brzezinski than Scarborough, though they criticize him equally on television. Their conclusion was that Trump finds it especially insulting to hear a woman speak ill of him.
In fact, we've reached the point where Trump has made so many comments about the bodies of the women around him, either viciously or hungrily, that we can call certain comments classics. If there were, say, a Criterion Collection of Trump's sexist remarks, his "grab her by the pussy" rant from 2005 would be the crown jewel.
Perhaps second to that mess, which inspired many a protest sign and an entire line of pink cat-ear hats but not much concern among right-wingers, are Trump's comments on Megyn Kelly. Kelly commented during the Republican debates, "You've called women you don't like fat pigs, dogs, slobs and disgusting animals," and bringing up the subject of sexism seemed to deeply bother Trump. Because he felt Kelly treated him unfairly, he later made a joke about her having been on her period, though he backtracked and said inexplicably that he had made a nosebleed joke instead.
And of course, no Trump sexism connoisseur could forget the prelude to all of this, in which our president habitually charged into the changing rooms at Miss Teen USA, which he later told Howard Stern was pretty exciting. "Before a show," Trump told Stern on air, "I'll go backstage and everyone's getting dressed, and everything else, and you know, no men are anywhere, and I'm allowed to go in because I'm the owner of the pageant and therefore I'm inspecting it. […] You know, they're standing there with no clothes." You can hear the full interview below, in a clip isolated by CNN.
See also: "How Trump's Feud With Morning Joe Has Only Intensified"