Trump's 'Total Lie' About John Oliver Enters Twitter Hall of Fame
"It was very odd," Oliver said.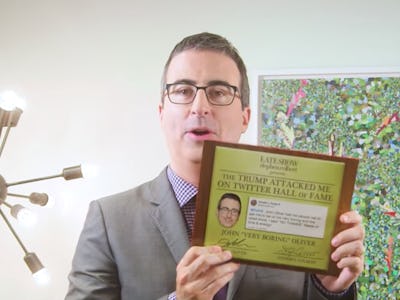 The Late Show with Stephen Colbert/YouTube
John Oliver has joined an elite group. In a clip from The Late Show with Stephen Colbert shared on YouTube Wednesday, the Last Week Tonight host revealed he is one of many that has been attacked by President Donald Trump over Twitter. The incident, which Oliver "had forgotten about," has been immortalized into a special picture frame presented to Oliver.
"John Oliver had his people call to ask me to be on his very boring and low rated show," Trump told his Twitter followers on October 31, 2015. "I said 'NO THANKS' Waste of time & energy!"
The problem is, it didn't happen.
"That is a lie," Oliver said in the video. "It was very odd to be on the receiving end of a lie that confident from someone who is president, however weird it is to say that out loud."
Oliver never asked Trump to come on the show. Oliver's team never asked him to make an appearance. In fact, Oliver reached out to anyone connected to the show to find out if they had reached out to Trump in any way to get him on the show. Nobody asked him.
"What kind of moron would lie about something this pathetic?" Oliver said.
Even after the presidential election, Trump has used his Twitter account to attack individuals and voice his opinion on topics of the day. Earlier this week, he posted on his account that his son is involved in "the greatest witch hunt in political history" after he was embroiled in a scandal over an attempt to gain damaging information about Hillary Clinton from a Russian lawyer. Earlier this month, Trump sparked controversy after sharing a GIF animation of himself wrestling with a man that had the CNN logo superimposed over his face.
Oliver did concede, however, that Trump wasn't entirely wrong in his tweet. It would have indeed been a waste of time and energy, and Oliver's show is indeed boring.
Watch the footage below:
The Late Show with Stephen Colbert airs weeknights at 11.35 p.m. Eastern on CBS.