The World, With Two Exceptions, Has Given Up on Donald Trump
Well, no one's surprised our president has two remaining allies.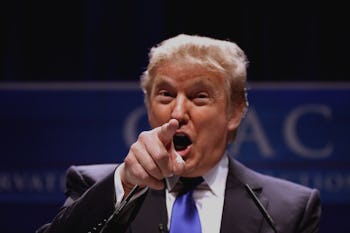 Wikimedia Commons
In today's unsurprising but inflammatory news, data from a Pew Research Center poll indicates that almost every single nation surveyed does not approve of United States President Donald Trump. In fact, the only countries to maintain a positive "confidence rating" in President Trump's abilities are Russia and Israel. It should be noted that Israel's stance on the U.S. President's competency has not changed much from the place it was at under President Barack Obama. Russia, on the other hand, is way, way more excited about a Trump administration than they were about Obama.
Let's break down the data in full and discover which of the 37 nations surveyed have changed their mind about the United States in the months since Trump's election.
Plummeting international ratings for Trump also mean the world's approval of the United States is on the decline; however, it's good news for Americans that our nation's approval abroad hasn't absolutely tanked. One might assume that historical relationships with America have kept some nations' approval of our country above water, or that many people abroad understand that Trump's leadership has severely divided our nation. To hate Donald Trump is not necessarily to hate all Americans, the data seems to suggest.
Twenty-two percent of those surveyed told Pew researchers that they still had faith in Donald Trump to "do the right thing" in international affairs. That doesn't necessarily mean each nation believes Donald Trump will act against their nation's interests; the wording is, admittedly, a little unclear. After all, no two nations are going to have the same concept of what "the right thing" is — that's (partially) why we have a United Nations. It's notable, however, that South Korea had faith in former President Obama to keep their sovereign nation safe from Kim Jong-un and North Korea, and that the nation is now almost entirely sure Donald Trump is going to fuck that situation up.
Check out the change in national approval across nations surveyed:
On a disturbing note, the Pew Research Center says, "Some of the steepest declines in U.S. image are found among long-standing allies," which means Trump's policies so far have managed to alienate our nation's supposed ride or dies. The researchers also add, however, that most nations surveyed said they believe their relationship with the United States will remain the same during Trump's presidency. Those who did anticipate a change believe that change will be negative.
The poll broke down international response to some of Trump's specific policies as well, revealing that 76 percent of the world disapproves of the U.S.-Mexico border wall. The world also largely disapproves of Trump limiting the access of Muslim immigrants to the United States, and the president withdrawing the United States from long-standing climate and cultural agreements. Trump's decision to back out of the nuclear weapons agreement with Iran, however, went over with a shrug.
The only positive term he received from those surveyed was "a strong leader" — he was more popularly called arrogant, intolerant, and dangerous. When tested on the terms charismatic, well-qualified, and "cares about ordinary people," he failed miserably.
Watching international approval change between President George W. Bush, Obama, and Trump isn't surprising, but it's certainly dramatic looking.
Finally, in a development not surprising to those following the FBI's investigation of the Trump administration and alleged, treasonous connections to the Kremlin, the poll demonstrates that Russia's approval of the U.S. President has never been higher. On the other hand, Canada is not happy with America, which means we're all likely to get a strongly worded email soon.
See also: The odds of Donald Trump Being Impeached Are Currently at 60 Percent