Donald Trump Just Made a Revelation About His 'Tapes' Comment
Interesting. It's almost like he was full of it before.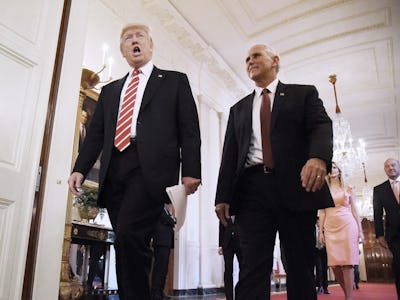 Getty Images / Pool
Apparently, Donald Trump was just kidding last month when he posted a threatening tweet hinting that he had audio recordings of his private conversations with former FBI director James Comey.
"James Comey better hope that there are no 'tapes' of our conversations before he starts leaking to the press!" Trump tweeted on May 12 after the former FBI director shared part of a written memo detailing his interactions with Trump with The New York Times. But on Thursday, Trump changed course, tweeting an unequivocal denial that he possessed any recordings of his conversations with Comey.
"With all of the recently reported electronic surveillance, intercepts, unmasking and illegal leaking of information, I have no idea whether there are 'tapes' or recordings of my conversations with James Comey, but I did not make, and do not have, any such recordings," Trump tweeted on Thursday.
If Trump has no recordings, and is unwilling to give his own version of events under oath, all we have to go on is Comey's own extremely detailed memos chronicling his weird interactions with the president. The president's tweets back up a report Bloomberg published earlier on Thursday in which an anonymous source claimed Trump did not have recordings of Comey.
Comey's memo and subsequent, exhaustive testimony in front of the Senate are the only on-the-record accounts of the president's interactions with the former FBI director, which may have indicated that Trump committed obstruction of justice. The case hinges on a meeting where the president allegedly told then-FBI director Comey to "let Flynn go," effectively asking the director to drop his agency's investigation into former National Security Advisor Michael Flynn's ties to Russian intelligence agents. After denying that he was personally under investigation for months, Trump finally appeared to admit that he was being investigated by the Justice Department, which has hired Robert Mueller, a former FBI director in his own right, to conduct the investigation.
During his testimony, Comey seemed completely at ease with the possibility of a recording. "Lordy, I hope there are tapes," he said at one point, openly daring the president to release them. But if there are tapes of the Trump-Comey conversations, the president says he doesn't have them. But you never know — there are other rumored "tapes" out there, too, and in these contentious times, we never know what's going to come out next.