Trump Personally Denies Leaked Comey Memo for the First Time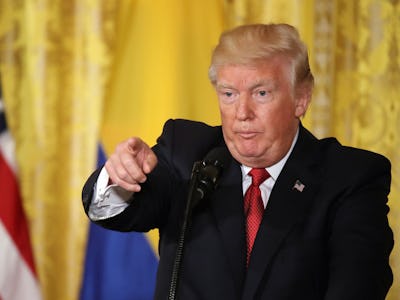 Getty Images / Mark Wilson
At a joint news conference held by President Donald Trump and Colombian President Juan Manuel Santos on Thursday, Trump told reporters that he did not ask former FBI director James Comey to stop investigating former National Security Advisor Michael Flynn. It was the first time that Trump has personally denied these accusations — which stem from a leaked memo written by Comey — on the record.
The reporter, who Trump referred to as Peter Baker of The New York Times, even though Baker wasn't at the conference, asked, "Did you at any time urge former FBI director James Comey in any way, shape, or form, to close or to back down the investigation into Michael Flynn?"
"No," Trump immediately responded. "No. Next question."
On Tuesday, former associates of Comey shared with the Times part of a memo he wrote documenting a private conversation he'd had with Trump in February. The memo allegedly states that Trump told the former FBI director, "I hope you can see your way clear to letting this go, to letting Flynn go. He is a good guy. I hope you can let this go."
If this memo is to be believed — and historically, memos made by FBI agents are generally accepted as court evidence — it would be the best proof we have so far that Trump tried to interfere with the FBI's investigation of Russia's tampering in the 2016 election. Many commentators also see Trump's dismissal of Comey on May 9 as evidence of the president's interference in the investigation.
The White House issued a statement denying the memo after it was leaked to the Times:
"While the president has repeatedly expressed his view that General Flynn is a decent man who served and protected our country, the president has never asked Mr. Comey or anyone else to end any investigation, including any investigation involving General Flynn. The president has the utmost respect for our law enforcement agencies, and all investigations. This is not a truthful or accurate portrayal of the conversation between the president and Mr. Comey."
But Thursday's press conference was the first time that Trump had personally denied the memo's veracity.
Beginning tomorrow, President Trump embarks on visits to Saudi Arabia, Israel, and the Vatican, followed by a trip to NATO and G7 meetings.