Trump Just Admitted He's Under Investigation
He's not denying it, but what does it mean?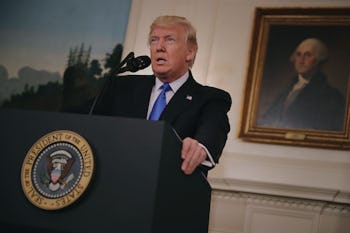 Getty Images / Chip Somodevilla
For months, President Donald Trump has been insisting on one thing: Despite the swirling probes and investigations methodically tearing apart his administration and campaign staff, he was not personally being investigated. He even got so obsessed with it that Politico reports he's started dropping "I'm not under investigation" into random conversations.
But on Friday morning, all of that changed, because Trump hopped on Twitter and finally said the big words: "I am being investigated…"
"I am being investigated for firing the FBI Director by the man who told me to fire the FBI Director! Witch Hunt," Trump tweeted at 6:07 a.m. Friday, admitting that he is now being personally investigated for committing a crime.
Trump could potentially be guilty of obstruction of justice for asking then-FBI director James Comey to "let this go" in regards to the ongoing investigation into Michael Flynn, Trump's former national security advisor. When Comey continued the investigation, Trump fired him.
The strange thing is that Trump's tweet might suggest that he is being investigated by Attorney General Jeff Sessions or Deputy A.G. Rod Rosenstein, who both allegedly had a part in Comey's firing, but not in Trump's private conversations with Comey regarding Flynn — but it's still unclear.
For one, Sessions has recused himself completely from all Department of Justice proceedings involving the Russia investigation, and has had to testify before the Senate as to his own ties to Russian diplomats before he joined the Trump administration as A.G. Second. After Comey's firing, Congress appointed a special prosecutor, former FBI chief Robert Mueller, to continue the investigation. It seems unlikely that Mueller, a private citizen at the time, told Trump to fire Comey.
It didn't take Twitter very long to figure out that something was screwy here.
It could be that Trump is referring to Rosenstein, the Deputy A.G., who is also the person who appointed Mueller to be the special prosecutor (as Sessions had recused himself).
As the Washington Post's Philip Bump notes, Trump's tweet isn't even itself a direct confirmation. While it's the latest thing he's tweeted today, he could contradict himself this afternoon. In other words, we have no idea what's going on, but that's pretty much normal these days anyway.