Donald Trump Just Treated a Journalist Like a Beauty Queen
"Where are you from? Come over here."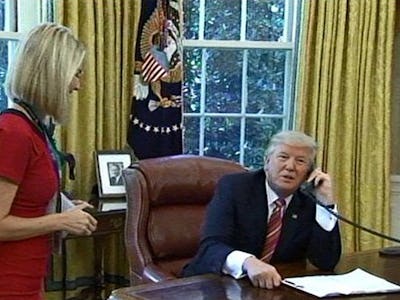 RTE News
President Donald Trump has made it very clear that he holds no affection for members of the press in the United States. However, a video uploaded to Twitter this week by the U.S. bureau chief for RTÉ News in Ireland proves Trump retains his affection for pretty blondes, no matter their job function, security clearance, or expertise in international policy.
"Where are you from?" our president says in the video, spotting Caitriona Perry among the international reporters. "Come here, come here," he adds, beckoning her to his desk to receive compliments on the way she looks. "We have all these beautiful Irish press," he adds. When prompted, Perry introduces herself. The president repeats her name back and says, "She has a nice smile on her face, so I bet she treats you well." The "you" in that remark is unclear, but one can assume President Trump means Perry's smile indicates she'll report on him positively.
As it turns out, not so much. Perry uploaded footage of the "bizarre moment" to Twitter without commenting much further, but her journalist colleagues began sharing and commenting that she had been objectified in the Oval Office. Though Trump's comments were far from the worst he's let loose on the subject of attractive women, the moment reminded many people on the internet of the way he once spoke about beauty pageant contestants when he owned Miss Universe.
Watch the full clip below and ask yourself if Trump's comments seem in line with reports that he snuck into changing rooms to watch contestants in Miss Teen USA change costumes.
Trump called Perry over during his phone call with Ireland's new prime minister, Leo Varadkar, the son of an Indian immigrant to Ireland and the nation's first openly gay PM. This wasn't the first time Trump has made off-putting comments about a female reporter; during the election he joked that Megyn Kelly was likely on her period while she moderated his debate with Hillary Clinton, though he doubled back after being criticized for the comment and said his intention was to joke about a nosebleed.
Though Donald Trump's continued demonstration that he sees women as sexual objects before they're professionals is not novel; it's notable that Perry took to Twitter in order to make her discomfort clear. The Trump administration has infamously locked out most of the nation's press from briefings and has decreed that many publications shut their cameras off in the White House.
Reporters without a clear channel through which to send their stories may be forced to lean on social media, as Perry did on Twitter this week.
See also: What the Nations of the World Reportedly Believe About President Donald Trump's Moral Compass