Elon Musk's Listening to Monty Python During Tesla Model 3 Production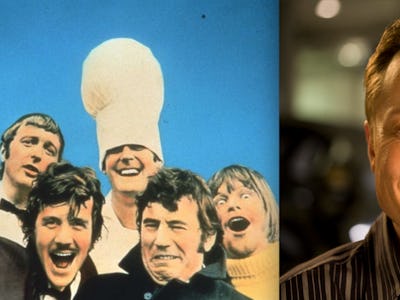 Flickr / OnInnovation and Monty Python/BBC
Tesla has just completed production on its first Model 3 vehicle, and CEO Elon Musk is celebrating in the most characteristic fashion: by working fastidiously and tweeting about Monty Python.
"Going over the small nuances of Model 3 production," Musk wrote on Twitter on Wednesday. "Very important that nothing sounds tinny."
With "tinny," he's referring to a classic Monty Python skit (he also linked to it). "Woody and Tinny Words" appears in the 42nd episode of the British comedy group's famous TV series Flying Circus, and features a family remarking on whether words have a "woody" quality to them — heartier, rounder ones, like "sausage," "bound," and "erogenous" — or a "tinny" quality, like "litter bin."
It's a pretty hilarious skit; check it out.
Of course, the engine of an electric car doesn't make much of any sound, including a tinny one; any significant noise the engine emits has been added. Musk is probably checking audible elements like the breaks, tires, and aerodynamic interference. If the sound of air flying past the Model 3 seems tinny, should we request our money back?
Musk's a big Monty Python fan. Last month he added an Easter egg to all Tesla cars that enabled them to play any of the comedy group's skits upon the driver's voice command (e.g. "Play Monty Python").
Judging by his tweet, it seems like he's taking advantage of his own joke feature and listening to sketches while he meticulously checks the Model 3. Oh, Elon.
As always, if Musk's Twitter feed is good for one thing besides updates about his many companies, it's nerdy jokes.
It should be said that "Elon Musk" is a very woody name.