Elon Musk: Tesla Cars Now Play Any Monty Python Skit, You're Welcome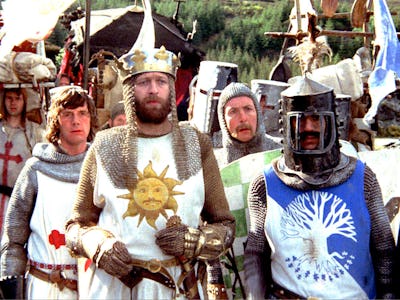 Getty Images / Scott Olson
Like a great irritating used car salesman, Elon Musk is constantly adding strange new features and Easter eggs to his Tesla vehicles. And the latest is the very definition of absurd: On Thursday, Musk announced that Tesla cars would now play any Monty Python skit at their driver's command.
"In the US, you can ask your Tesla to play any Monty Python (or other comedy) skit. Doesn't work outside US yet," Musk tweeted shortly after posting the famous song "Always Look on the Bright Side of Life" from Monty Python's Life of Brian.
Musk didn't clarify how exactly this works in Tesla's central computer system, and how or if his company acquired the rights to distribute Monty Python sketches to its customers, but he did say the feature "might work in Canada" and would be "coming soon" to many other parts of the world (Tesla PR hasn't responded to an email yet, but we'll update this post if we hear back).
For reference, though, Musk said this was "possibly his favorite skit:"
It's not the first time Musk has just gone out and added something weird to his cars. Tesla vehicles can virtually go to Mars with SpaceX, use the center display as a sketchpad, and light up like a rainbow.
Here's how you use the new Monty Python library:
Musk didn't clarify what "other comedy" meant in the current feature, so it's probably up to Tesla owners to explore the new feature and figure out what there is to watch.
If you have a Tesla and want to give the Monty Python mode a shot, shoot me an email at jack@inverse.com!