Can Tesla's Autonomous Cross-Country Road Trip Still Happen This Year?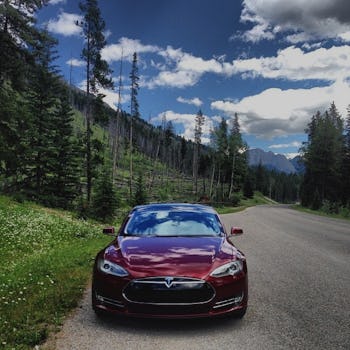 Flickr / voyagevixen2
This past April, Elon Musk re-made a prediction that every vehicle would be equipped with the hardware necessary to take a hands-free trip across the continental United States, and that Tesla would prove it, this year.
"Essentially, November or December of this year, we should be able to go all the way from a parking lot in California to a parking lot in New York, no controls touched at any point during the entire journey," Musk said during his news-making interview at the TED 2017 conference.
The only problem is, it really looks like that isn't going to happen, sadly.
On Friday, analysts at Cloister Research pointed out that Musk has been downplaying Autopilot developments in his public appearances, like the recent Tesla shareholders meeting. The Autopilot program in general has been a "tough slog" according to Musk, and it only got harder this week, when the new head of software, Chris Lattner, left the company after reportedly struggling to get along with Musk, which means that Musk's promise of a LA to NYC hands-free demonstration drive probably isn't on schedule.
The prediction made in April was made by Musk in October 2016:
"Our goal is — I feel pretty good about this goal — is that we'll be able to do a demonstration drive of full autonomy, all the way from L.A. to New York — so, basically, from a home in L.A. to, let's say, dropping you off in Times Square, in New York, then having the car go and park itself by the end of next year — without the need for a single touch, including the charging."
Tesla poached Lattner, a brilliant programmer and experienced leader, from Apple about six months ago, in part to revitalize the company's in-house hardware and software package. In July of 2016, Tesla was forced to "cross the Rubicon" and completely rebuild the hardware component of Autopilot after computer-vision company Mobileye, the system's previous manufacturer, parted ways with the company in a semi-dramatic feud over safety concerns. Tesla quickly built a "Hardware 2" package meant to succeed and surpass the Mobileye system.
That's not to say the company hasn't been making progress. Musk and co are still releasing incremental updates; the latest update, Musk said, refines the freeway control algorithm to be "smooth as silk" and should be out sometime before the end of June (although it hasn't really been mentioned since). HW2 vehicles (anything made after the Mobileye split) will eventually surpass their predecessors, but they still aren't quite to parity.
It makes sense, then, that Musk's claim of "cross-country road trips" has a long way to go before it's a reality. If HW1 cars weren't capable of the feat, and HW2 cars aren't at a HW1 level, then uh, don't hold your breath. Lattner, the former Autopilot head, has been succeed by two people: Jim Keller, a specialist in computer chip hardware, and Andrej Karpathy, a former researcher at Musk's Open AI project that will be tackling the software section while Keller supervises and works on chips. All of this points to Tesla's continued commitment to Autopilot, but also to the fact that Musk big talk of fully autonomous road trips seem unlikely.
We reached out to Tesla to ask what the current timeframe was on cross country trips, and will update this story when we hear back.
All of this being said, we're only six months into 2017.