Tesla's Autopilot Update Makes Freeway Driving a Little More Fun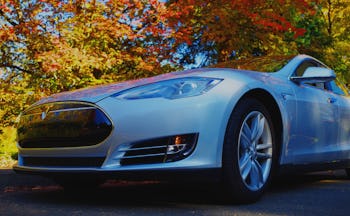 Flickr / Wolfram Burner
Tesla's latest update to its Autopilot system might look incremental, but it's a sign of big things to come. The new update, which rolls out to Model S and Model X cars equipped with Tesla's Hardware 2 package, lets drivers use the cars' semi-autonomous Autosteer function at 55 miles per hour, a step up from 50 — and most importantly, just a few mph shy of what Tesla's old cars can do. The update could be the last before Tesla's newer cars finally catch up to older cars in terms of functionality, and when that happens, the Hardware 2-powered cars will quickly outstrip their predecessors on the way to Elon Musk's goal of full autonomy by the end of the year.
Autopilot Version 17.9.3, spotted by Reddit user and Model X owner mingjai, increases the maximum speed during Autosteer from 50mph to 55mph. This mode allows drivers to let the car drive itself along undivided roads, steering automatically. The update follows swiftly on from the update released two weeks ago, version 17.7.2, that enabled autonomous parallel parking.
Hardware 2, based on an advanced series of cameras and radar, started shipping in vehicles in October. Tesla's in-house solution should be more advanced than the Mobileye-powered computer vision system that older cars were using for semi-autonomous driving, but it hasn't quite worked out that way. Musk explained during a recent earnings call that Tesla wanted to use both systems side-by-side until Tesla's newer system was developed enough to the point where they could drop the Mobileye system, but Mobileye was not interested in doing that. As a result, Tesla was forced to "cross the rubicon" and ship a system less advanced than older cars.
Musk stated last month that the new system should reach feature parity in March, so the company has three more weeks to roll out more updates. Originally, the company said that the two would be on the same level by December 2016, but that deadline didn't pan out either.
When it reaches this goal, the enhanced hardware will allow Tesla to start working toward full autonomy by the end of the year. That's still months of research and testing away, but the company's videos of a beta version of full autonomy look pretty promising.