Elon Musk Reveals 'Smooth as Silk' Tesla Autopilot Update Coming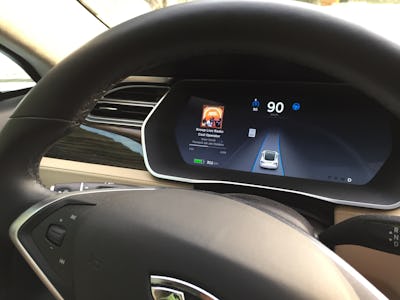 Flickr / Marc van der Chijs
Elon Musk is about to take a giant step forward in the race to develop a fully self-driving car. On Sunday, the Tesla CEO posted on his Twitter page that a new update to the semi-autonomous Autopilot system found in existing cars will receive a major update next month. The feature drives the car in limited circumstances like on highways, and the company plans to develop it further into a fully autonomous system by 2018.
"Excited about the Tesla Autopilot software release rolling out next month," Musk posted. "New control algorithm feels as smooth as silk."
Unfortunately, the new update is only for Hardware 2-powered vehicles, the new platform that started shipping in October last year in Model S and X vehicles. The Tesla-developed system replaces the older single-camera Mobileye setup, and the company claims it has enough sensors to support full autonomy at a later date. It has eight cameras, radar, and ultrasonic sensor for spotting obstacles that even human drivers will miss.
The update is also limited to Hardware 2 vehicles because newer models come with a more powerful computer, the Nvidia Drive PX 2. The added performance should help enable autonomous driving, but Musk has already said that if full autonomy requires a computer upgrade, the car's design should make upgrading to a more powerful piece of kit simple.
Until recently, though, Mobileye-powered cars offered a superior autonomy experience. The system was developed by a third party, but the two companies disagreed on a future roadmap toward full self-driving capabilities. Instead of shipping cars with both old and new sensor systems preinstalled, Tesla was forced to jump straight to shipping cars with new systems only, meaning the company had to work fast to bring back the most critical missing features.
Musk explained that perpendicular parking and rain sensing, both found in Mobileye vehicles, should also arrive in a new update next month. The first feature allows a Tesla to park itself in a parking lot space with two cars either side, while rain sensing switches on windshield wipers automatically when needed.
Musk is planning to give Hardware 2-powered cars the ability to drive coast to coast across the United States, fully autonomously, by the end of this year. Older, Mobileye-powered vehicles are also expected to continue receiving updates, although there will be a point where Hardware 2 pulls ahead and cements its position as the superior sensor setup.