Mobileye Lashes Out at Tesla for "Pushing the Envelope"
Is it just a business move — or is it an act of conscience?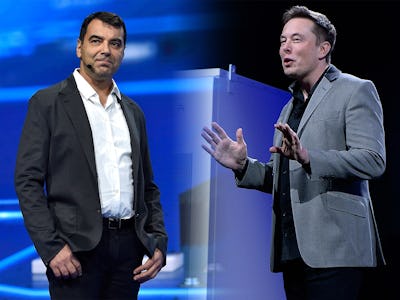 Getty Images (David Becker / Kevork Djansezian) 
While Elon Musk continues to declare that his Teslas will soon be "by far the safest cars on the road," his former partners at Mobileye are singing a different tune. On Wednesday, Reuters reported that Mobileye Chief Technology Officer Amnon Shashua said Tesla was "pushing the envelope in terms of safety," and that this audacity would hurt the autonomous car industry.
Mobileye once supplied Tesla with its EyeQ3 chip, which enables all Teslas to "see" their surroundings and respond accordingly. But in July, soon after news of the first Autopilot fatality, Mobileye announced that the partnership with Tesla would end after the EyeQ3 ran its course. Shashua said then that Mobileye's reputation, along with that of the self-driving car industry as a whole, was at stake, and that its computer vision software could not yet be trusted on such a scale.
Now that it's independent, odds are good that Mobileye wants to establish its own foothold in the market, and to distance itself from a company that will continue to make headlines whenever it loses footing. Car crashes are normal, unfortunate events, but computers are great scapegoats. Even if Tesla could cut automobile deaths in half, the rare Autopilot malfunction would still cause a media frenzy. Mobileye, which has moved on to other automotive partnerships, would rather not be tied to such a liability.
Tesla, meanwhile, has been ambling away from a computer vision–based system, instead prioritizing radar. The new software is developed in-house, by Tesla engineers, and Musk claims that Teslas, as a result, will be three times safer than cars without Autopilot. Version 8 of the software, which Tesla will release in about a week, will also feature a few more safety measures (like forcing drivers to keep their hands on the wheel).
Yet Mobileye's Shashua is not swayed. "Long term this is going to hurt the interests of the company and hurt the interests of an entire industry, if a company of our reputation will continue to be associated with this type of pushing the envelope in terms of safety," he told Reuters. The industry is indeed growing — Ford, Uber, Mercedes-Benz, and a few independent companies are all joining the fray — and each and every setback for one competitor will be a win for another.
Tesla, despite its record-marring fatality and many enemies, is out ahead. But Mobileye et al. are unperturbed.