Ford Takes Aim at Tesla: "Full Autonomy Within Five Years"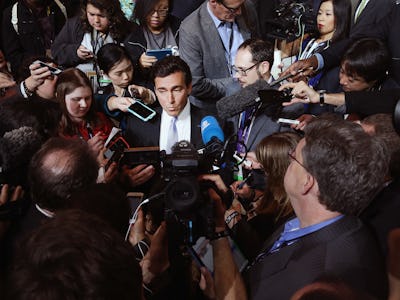 Getty Images / Scott Olson
Ford is losing ground against Elon Musk's Tesla, which maintains a steadfast grip on both the electric and autonomous vehicle markets. But on Tuesday, Ford announced its intention to mass-produce autonomous vehicles within five years — and thereby attempted to recapture the self-driving car spotlight. Ford is talking fully autonomous vehicles. No steering wheel, no pedals — no driver. And it's promising to have them on the road by 2021.
It's an audacious claim, but Mark Fields, Ford's President and CEO, seems pretty confident in his company's ability to meet its self-imposed deadline. "Ford will be mass-producing vehicles with full autonomy within five years," he said.
Musk, on the other hand, has been more cautious: we've long anticipated that Autopilot 2.0, whenever it came out, would bring Teslas one step closer to full autonomy. But while the hardware exists to accomplish this goal, the software, Musk's explained, does not.
In other words, Ford is either firing blanks or has real ammunition up its sleeve. Then again, a five-year deadline may be conservative enough to trust that the software will catch up with the hardware.
The race for full autonomy heats up. Tesla is out of the gates early — especially so with its new superfast P100D battery — but Ford is conserving its energy for the home stretch. And Mark Fields would probably prefer that he, rather than Musk, be compared to Henry Ford.