Autopilot 2.0 May Make Teslas (Almost) Fully Autonomous
More sensors = more data = more autonomy.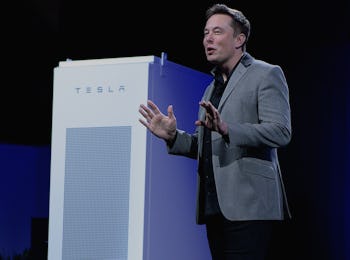 Getty Images / Kevork Djansezian
Tesla's Autopilot is already better than any human being at operating a vehicle. Yet, as is his style, CEO Elon Musk is not satisfied. According to Electrek, Tesla's getting ready to release Autopilot 2.0, which will feature more sensors and therefore enable the cars to have better knowledge of their surroundings. In turn, this will mean Teslas will be even safer — and could signal the arrival of a new era: The era of truly autonomous vehicles.
Musk hinted that something big was in the works last week, saying that a pending "significant announcement" would "blow people's minds." Now, if the rumors are true, we get to know his secret ahead of schedule. Tesla's Autopilot has existed for just about two years, and only gets better with age. It's still in "beta," but that only means that it has yet to rack up one billion miles — or about 40,000 laps around the Earth. With additional sensors, data acquisition will improve. When that happens, Teslas will learn at an unprecedented rate.
The reported hardware improvements include, as mentioned, more sensors, but also more cameras. On existing Teslas, there's a radar sensor in the front; in this next generation of Teslas, there will be additional sensors on all four of the cars' corners. They'll be radar sensors, not LIDAR, which Elon Musk really doesn't like.
The software to accompany these new sensors and interpret their data is already complete, sources tell Electrek, and we can expect the official rollout in the near future. On that day, we will be one step closer to legitimately autonomous cars. Who needs a steering wheel?