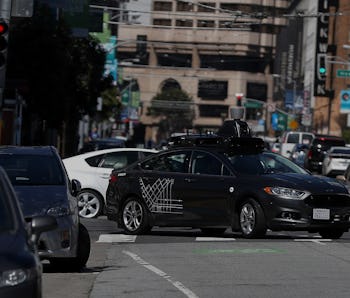 Innovation
Hyperloop Could Ease Congestion Created by Self-Driving Cars
Getty Images / Justin Sullivan
Brogan BamBrogan, founder of the new hyperloop startup Arrivo, says hyperloop can't get here soon enough, because the coming age of autonomous cars is going to wreak havoc on America's roadways.
"There's a real limit to how much more infrastructure we can add," BamBrogan said in a recent interview with Inverse. "I do think it's going to be much safer on the roads in the near term, but I do think we might see a lot more congestion due to the extended use of autonomous cars."
"In my opinion, even level five autonomy [where a car does not even require a steering wheel or manual controls] is not going to solve all the problems that we're starting to see," BamBrogan said. "Even if all cars were electric and autonomous we'll continue to have massive problems with utilization."
In 2014, a Princeton University study showed that initial cautiousness toward autonomous cars might make road usage drop slightly as the technology becomes popular, but once it's fully implemented, more cars will be on more roads for longer periods of time than ever before. America will have to both heavily invest in infrastructure and find a way to keep cars off the roads, because removing the time penalty of daily driving means people could send their robot cars on trivial missions whenever they wanted.
"One of the guys here at the office joked that he's going to send his car out to get coffee from the place that he likes that's 25 miles from his house," BamBrogan said. "That's because he's not in the car."
Some states have already started to prepare for this future. The Massachusetts state legislature recently introduced a bill that would penalize "zombie" cars, or self-driving vehicles moving around without a driver inside to avoid parking fees. Some cities, like London, charge vehicles a premium fee to move through particularly congested parts of the city, a problem that will only get worse when the first autonomous cars are chained to urban "geofences" inside well-developed and mapped areas.
Arrivo wants to remedy all of this quickly, taking a SpaceX-like approach to the technology, but like its competitors at Hyperloop One and other startups, it faces an uncertain economic future and the mountains of red tape before it becomes viable. BamBrogan says his company has "plenty of money," but it remains to be seen how much Arrivo can build before America's roads and bridges crumble under the weight of millions of wheels and tires.