Hyperloop Startup Arrivo Has "Plenty of Money" and Big Plans
Arrivo is "absolutely building hardware".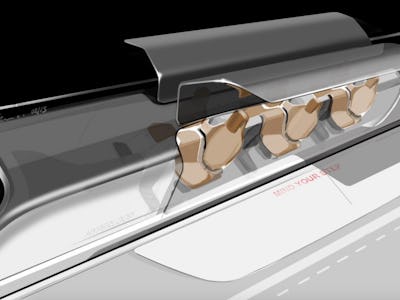 SpaceX
Arrivo, the hyperloop startup founded by Hyperloop One's rebel co-founder Brogan BamBrogan, has been pretty quiet since it launched in February, but BamBrogan says that his company is on a schedule he likes, and has a big pillow of cash behind it.
"We've got plenty of money right now," BamBrogan tells Inverse. "We have great investors and great long-term capital partners." But cash on hand isn't the point — BamBrogan declined to say more about investors for Arrivo. Instead, the company wants to figure out a way to maximize the efficiency, cost-effectiveness, and public utility of Elon Musk's original concept for revolutionizing personal and commercial travel with a system of vacuum-sealed tubes and super-fast pod-like containers.
"We'll announce hardware that we've built," he says. "I don't know if we need to announce raising money." But it has allowed the company to grow relatively quickly. When it launched, Arrivo, by our count, only had about eight listed employees. Now, BamBrogan says it has at least 20 full-time employees, with plans to expand to a full-time staff of at least 60, maybe 80 by the end of the year (plus a few interns, he says). BamBrogan says the focus right now is on hiring engineers, who will work in full-time roles at the company. Right now, there are 25 job openings posted on the Arrivo website.
That's a pretty big distinction from his competitor Hyperloop Transportation Technologies, which relies on a vaguely-worded system of "crowd-storming" to essentially crowdsource engineering, although HTT has yet to produce any evidence of, well, actual engineering.
Arrivo also has yet to show the public meaningful, hard progress toward building hyperloop technology — right now, his former company Hyperloop One appears to be in front as far as actual hardware goes — but BamBrogan says he's committed to putting the focus on hiring engineers foremost and putting out an actual product.
As far as the product goes, BamBrogan says there's one thing he really doesn't want to be: the modern equivalent of the Concorde jet. From 1976, the Concorde offered supersonic flights across the Atlantic Ocean on a supremely expensive, supremely inefficient plane that was retired after it catastrophically crashed on a runway in 2003, killing all those aboard.
"One of the core beliefs that I have is that self-gratifying technologies are always exposed," BamBrogan says. He explains that the Concorde's inefficiency made it "self-gratifying" — it was cool and useful, but only insofar as a plaything for the very rich jet-set. "You're not providing as much value as you are increasing your effective cost of use."
Arrivo's hyperloop, he hopes, will be the opposite — combining technologies like the conceptual hyperloop and finding a place that it can fit into the growing ecosystem of ride-sharing, mass transit, and autonomous cars.
For what it's worth, that seems to be the system Elon Musk favors too. BamBrogan said the company should have more news within the next few months, but that it was "absolutely building hardware," and scouting locations for a test track near its downtown L.A. office and across the country.
BamBrogan abruptly left Hyperloop One in July 2016. No less than a week after representing the company on Science Friday on NPR, he had departed HyperloopOne and filed a wild lawsuit along with three other former employees against some of its executives and board. Hyperloop One settled the lawsuit in November.