The 8 Wildest Takeaways From BamBrogan's Hyperloop One Lawsuit
Nepotism, verbal abuse, and the hangman's noose.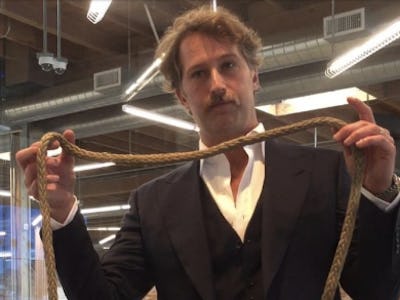 Cotchett, Pitre & McCarthy, LLP / Scribd
Brogan BamBrogan, cofounder of Hyperloop One, departed the company in a dramatic series of events that include a wild combination of nepotism, verbal threats, and someone holding a hangman's noose in a Los Angeles office building.
The story of Hyperloop One has already included open-air engine tests, underwater tubes, and a hypothetical bridge between Sweden and Finland, but this might be the strangest development yet.
BamBrogan's incredible tale of corporate evil is told through a lawsuit he filed with three former Hyperloop One employees against board chair Shervin Pishevar, board member Joseph Lonsdale, CEO Robert Lloyd, and Shervin's brother and Hyperloop One chief legal officer Afshin Pishevar.
Beneath the thin veneer of radical innovation and idillic tube photography portrayed in the media is a story of a violently imploding company Martin Scorsese would kill for. The public first got an idea of the Game of Thrones-esque shit going down in Hyperloop One's L.A. on July 1, after BamBrogan and other high-level engineers were abruptly fired (or resigned?).
The initial story was a classic case of money men versus engineering nerds — with plenty of sex, marketing, and profiteering thrown in. The technological promise of Hyperloop One, the lawsuit states, "is being strangled by the mismanagement and greed of the venture capitalists who control the company." It continues: "Those in control of the company continually used the work of the team to augment their personal brands, enhance their romantic lives, and line their pockets (and those of their family members)."
The above sentence is just a taste, but represents the tone of the entire narrative. Sit down and strap in, because here are eight of the craziest takeaways from the lawsuit.
8. A sad, expensive love story
"Defendant Shervin Pishevar, who was generally uninvolved in day-to-day matters, began dating the company's PR vendor, and increased her salary from $15,000 to $40,000 a month, more than any employee in the company. When their subsequent wedding engagement fell through, he finally heeded suggestions that her work was worth little, and terminated the arrangement."
7. Threats of economic warfare
After 11 employees co-signed a letter of complaint about management, the members of the board named as defendants responded with an offer to downgrade BamBrogan's status and fire two others. If the complaining parties didn't accept that, they would "pursue them to the ends of the earth" with "legal warfare by millionaires with extensive networks."
Also this: "If they did not toe the line, this would be the 'worst day' of their lives; and they would bleed the employees dry with frivolous lawsuits."
6. The quick fall
It only took BamBrogan and friends 11 days to file the 31-page lawsuit, but this thing was a long time coming.
5. Conflicts of interest beyond belief
Shervin got paid once through Sherpa Capital, and then once through Hyperloop One, the company of which he owns 90 percent of the common stock (BamBrogan only owned 6 percent).
"Shervin instituted a "pay-to-play scenario by pressuring potential Hyperloop One investors to invest in Shervin's own fund, Sherpa Capital, in order to gain access to direct investment in Hyperloop One"
The company's financial were all managed by Lonsdale's brother's small new investment firm Fideras. The classic nepotism move "undoubtedly damaged Hyperloop One's credibility and potentially lost out on tens of millions of dollars in investments, as well as the opportunity to garner investment from strategic and internationally respected sources."
4. Party over work
Shervin kicked the engineers out of the Hyperloop One headquarters "on multiple occasions" to "host parties for his friends and acquaintances."
That alone isn't fair, but it was almost worse when engineers like BamBrogan stayed around:
"Shervin even forced BamBrogan to give a tour of the company to a Los Angeles nightclub doorman."
3. When in doubt, pretend it never happened
Apparently, the best way to escape judgment from ruling a futuristic transportation company like the Iron Throne is to pretend it never happened.
"Defendants also blocked the resignation e-mails of the Plaintiffs and Giegel from reaching their team members, and to this day have persisted in telling employees that Plaintiffs are still full-time employees of Hyperloop One."
2. Shady talks with shady Russian investors
BamBrogan was scheduled to meet with investors in Russia before he helped write the complaint about management. Instead, he told the Russians he couldn't make the meeting, and the Pishevar brothers were not happy about it.
"Shervin complained to the Board and the entire team of Hyperloop One employees that BamBrogan's discussions with the Russian investors had put Shervin's safety at risk — suggesting that the investors (whom Shervin had brought into the company) were the type of people capable of physical violence."
Shervin went on his own to discuss a Silk Road hyperloop, while his brother Afshin (who was rumored to be unstable) stayed busy by doing this:
1. This
"Chief Legal Officer of Hyperloop One, Defendant Afshin Pishevar, strolled through Hyperloop One's office and placed a hangman's noose on BamBrogan's chair."
That is the Chief Legal Officer of a major tech company ostensibly leaving a death threat for co-founder Brogan BamBrogan. We'll leave it at that.