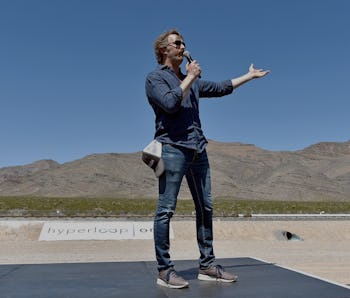 Innovation
Brogan BamBrogan: Hyperloop One Will be Underwater, Underground, Across the World
Hyperloop One CTO Brogan BamBrogan spoke on how his past work at SpaceX is influencing the project's future.
Getty Images / David Becker
Back in May, the Hyperloop One completed its first propulsion test in Nevada, and as of this week, a new track is being built for the sake of a full systems test later this year. The hyperloop, conceived by SpaceX's Elon Musk, was a new direction in transportation technology that was intended to carry passengers from Los Angeles to San Francisco in about 30 minutes. The idea was left open for anyone to take a shot at, and Hyperloop One — led by some of SpaceX's top alumni — is looking to lead the charge.
Hyperloop One's Chief Technology Officer (and former SpaceX engineer) Brogan BamBrogan sat down with Science Friday to talk about the upcoming test, the challenges the company faces, and how, exactly, the Hyperloop One would work.
BamBrogan spoke on his past experience at SpaceX, saying that after he left in 2013, his co-founder — Shervin Pishevar — was already looking to build what would eventually become Hyperloop One. "The DNA of my time at SpaceX has got its fingerprints all over Hyperloop." Similar to SpaceX, too, is Hyperloop One's dedication to keeping costs low and creating reusable technology. "There's nothing new that has to be invented, but we are doing is innovating and doing things to bring the cost down."
"We're really developing all the core tech that we're enabling Hyperloop to work," said BamBrogan. Some of that tech includes a custom linear electric motor, the aero and thermodynamics of the pod, a levitation system, the tube's construction techniques, power electronics, and control systems. Once that's out of the way, it will be time for the company's much-touted "Kitty Hawk" moment, the full systems test. According to BamBrogan, the company is shooting for Q4 of this year for the big event. Initially, the tests will only be one or two kilometers long, but "as our testing continues, we're going to be going farther and faster," said BamBrogan.
From there, though, the possibilities are endless. The idea of the hyperloop served as an open door to take the technology and change it to expand the very concept of transportation in the future. According to BamBrogan, that means the Hyperloop One won't stop at short, land-based travel. "We think we can deliver things people don't even know they want yet, and that's going to manifest itself in a lot of ways. So I think we will see some above-grade systems, we're definitely gonna see tunneled systems and we wanna see some underwater systems."
BamBrogan also opened up about how the system will work, going into extreme detail about the Hyperloop One's advantages and challenges. The Hyperloop One is operating at a low pressure that the company sees as something of a "sweet spot", where it's low enough that there's very little aerodynamic drag — but high enough that it's easy to maintain in case something goes wrong. "Using magnets, it's a fully non-contact propulsion system and a non-contact levitation system, which is part of the reason we can achieve high speeds and achieve ultra-low turbulence and achieve really low maintenance costs."
BamBrogan talked about the Hyperloop One's potential for world wide travel, stating that partners from several countries were coming on board to support it. "I'm leaving soon on a four-country trip actually," he said. "The great news is around the world we're talking with all the best partners - worldwide riders in rail, transportation, and mobility … I think we're going to different Hyperloops serving different regional networks."